Aug 12, 2021
August Is National Wellness Month! Some Easy Ways To Improve Your Health
Did you know that August is National Wellness Month? We hope you will think about all the ways you can better your mind, body and soul! With everything going on in the world today, family responsibilities, your job, stress or whatever else you may be dealing with, it's easy to forget that you need to take care of yourself.
During August, we hope you will focus on self-care, stress management and creating healthy routines. We encourage you to challenge yourself to create new, healthier habits that promote holistic wellness.
At Boost Oxygen, we feel strongly about the importance of health and wellness. We are in the healthcare industry and our product is all-natural respiratory support for energy, recovery and performance to help general health and wellness. That's why we support National Wellness Month! We've also put together a list of some easy ways you can improve your daily health and wellness.
Make Exercise A Part Of Your Daily Routine
There's no better time than National Wellness Month to start an exercise program! Exercise keeps you fit, helps you maintain a healthy weight and improves your mental health. Regular exercise improves pain management, reduces mental stress, increases flexibility and strength, and promotes healthy circulation.
Related Article: Easy Exercises If You Have Breathing Problems
Drink More Water
Drinking more water is easy and has plenty of health benefits. Water is critical for digestion. It prevents constipation and keeps the bowels moving by helping to process soluble fiber and fat. Staying hydrated also helps to eliminate toxins from the body, which can damage the gut by causing inflammation and irritation. Drinking more water can also aid with weight loss. Fluid losses occur daily, from skin evaporation, breathing and urine – and these losses must be replaced daily by water for good health.
Cut Back On Sugar
Did you know the average American consumes 22 teaspoons of sugar every day? It's just not the sugar in soda or coffee, but sugar is also a "hidden ingredient" in salad dressings, juices, pasta sauces and much more. The American Heart Association recommends six teaspoons of sugar a day – you can still get your sugar fix but do it smarter: add blueberries to your yogurt or cereal, drink plain water instead of soda and sweetened tea, use spices like cinnamon in place of sugar and roast veggies like parsnips, carrots and tomatoes that turn sweet when roasted.
Try Something New
Take a few days during National Wellness Month to try something new – maybe an outdoor activity like biking, a new exercise like Yoga, visit a museum you've never been too, hike a nearby trail or volunteer your time in your community. Trying something new can be healthy, but it can also improve your mental outlook by making you feel good!
Go Outside More
If you're the average American, you likely spend the majority of your days indoors, whether it's at home with family or at work. That's why it's so important to try and get outside and enjoy the warm weather and fresh air during the weekend. Go outside, get away from the television and put down your phone! Your body will get more exercise, your respiratory system will benefit from the circulation and you'll enjoy new experiences.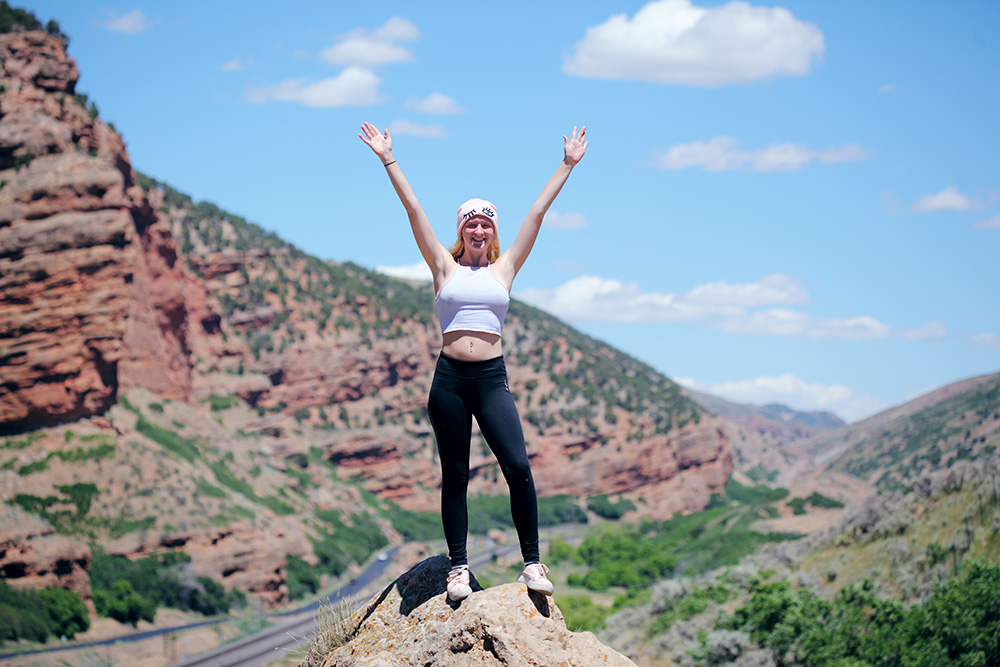 Photo by Sharon McCutcheon on Unsplash
Slow Down And Relax More
There are so many things in our daily life that can stress us out and put us in a bad mood. Not only that, but stress can affect your well-being and make you sick. We hope you will use National Wellness Month to try and alleviate that stress! Slow down and relax more. Feeling anxious? Go take a walk in a nearby park or around your neighborhood. Try to calm down if someone or a situation upsets you. Get a massage or learn some relaxing breathing techniques. Don't sweat the small stuff! You will feel better when you slow down, calm down and relax.
Need More Ideas For National Wellness Month?
Need more ideas on ways to better yourself during National Wellness Month? Check out this "Wellness Calendar" from ShopLiveLoveSpa.com for more ideas! In addition, try exploring #WELLNESSMONTH on Instagram – you will see plenty of inspiration and motivation ideas by others who are improving their own health and wellness!
We hope you will join Boost Oxygen in bettering yourself during National Wellness Month throughout August. You can also improve your breathing habits by trying Boost Oxygen! Did you know that the air you breathe contains only 21% oxygen? The majority is useless 78% nitrogen! Your body needs oxygen to fuel your cells, tissues and organs so you feel energized. Help is Here with Boost Oxygen during National Wellness Month!
Visite nuestra tienda en línea
Encuentre una tienda cerca de usted