Jul 22, 2021
THINK TANK is now available at select CVS Pharmacy Locations Nationwide
MILFORD, CT, UNITED STATES, June 1, 2021 – Boost Oxygen, the worldwide leader in portable supplemental oxygen canisters, is proud to announce that THINK TANK is now available at select CVS pharmacy locations nationwide.
Look for THINK TANK at CVS "Health Hub" locations in the memory and focus section.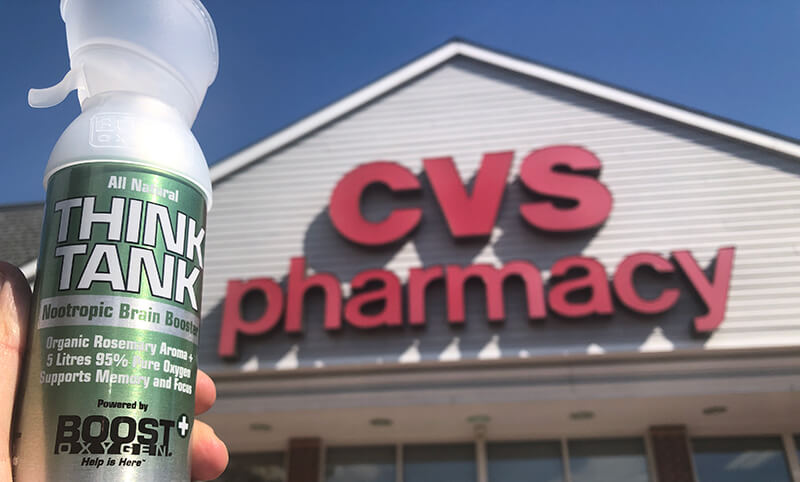 THINK TANK (powered by Boost Oxygen) is an all-natural and healthy nootropic brain refresher that contains elements that clinical studies have shown support cognitive function. THINK TANK is the combination of 95% Pure Oxygen and organic Rosemary aroma. Rosemary aroma has been independently studied and found to increase short term memory and mental acuity.
THINK TANK is not a drug, it's not a multi-vitamin and it's not filled with sugar or caffeine like energy drinks. It's simply healthy and natural fuel for your brain.
Select CVS pharmacy locations nationwide now carry 5-Liter Medium size canisters of THINK TANK, along with Boost Oxygen's family of 95% Pure Oxygen canisters including Natural (no aroma), Peppermint, Menthol-Eucalyptus and Pink Grapefruit.
"We are excited to partner with CVS to bring THINK TANK to a major nationwide retailer for the first time," said Rob Neuner, Founder and CEO of Boost Oxygen. "Launched in 2019, THINK TANK has quickly become one of our most popular products – and this amazing opportunity with CVS will allow it to become more readily available to our customers across the United States."
The addition of THINK TANK at select CVS pharmacy locations continues an ongoing global expansion for Boost Oxygen, which is now available in over 50 countries at thousands of retailers and local pharmacies.
To find a CVS near you that carries Boost Oxygen products, use the store locator at BoostOxygen.com at this link: boostoxygen.com/boost-oxygen-retailers
About Boost Oxygen:
Boost Oxygen is portable 95% pure supplemental oxygen for all-natural respiratory support. No prescription is needed. It is used by athletes for recovery, older adults for an active lifestyle, people at high altitudes for altitude acclimation and those experiencing poor air quality. Did you know the air we breathe contains only 21% oxygen – the majority is useless 78% nitrogen. Boost contains nearly 5x the oxygen you normally breathe and provides easy and immediate access to supplemental oxygen.
As seen on Shark Tank! Based in Milford, Connecticut, Boost Oxygen is a Made in the USA product, available at retailers nationwide and exported worldwide. For more information, images, and studies about the benefits of oxygen, visit BoostOxygen.com or their Learning Center at Learn.BoostOxygen.com. Follow Boost on social media: Facebook: @BoostOxygenUSA, Twitter: @BoostO2, Instagram @boostoxygen, LinkedIn: @boostoxygen and our YouTube Channel: Boost Oxygen.