Aug 30, 2019
The New England Warriors are a chapter of the USA Warriors based out of Washington DC; here is their shared story from Team Manager Nichole Ramsdell. At the end of this article, you can receive information for ways to support this non-profit organization.
"In 2014, team members Ian Ramsdell and Christy Gardner (who both played with the USA Warriors team while they were in-recovery at Walter Reed Military Medical Center) were medically retired from the military (Ian from the Navy and Christy from the Army) and they relocated back to their home states of Maine and New Hampshire. Both wanted to continue to find a way to keep playing sled hockey. So, shortly after settling, the New England Warriors were born."
"The New England Warriors is a 501c3 non-profit that introduces the sport of sled hockey to ill, injured and wounded veterans. Our team is primarily composed of veterans, but we follow the rules and bylaws of our parent chapter and have a few non-veteran players who have physical disabilities that prevent them from playing stand up hockey. We also have a few non-disabled volunteers.
Our team consists of a group of individuals who are nothing short of incredible; we have veterans, active-duty military, active reserves, law enforcement, physically disabled youth and adults who are all there for the same reason: a love of the game. Our entire organization, from our board of directors with our parent chapter in DC, down to our coaching staff, manager, and everyone in between, is entirely volunteer-run. This allows for every single cent that comes into the program to go directly for providing services and support to the players and the team."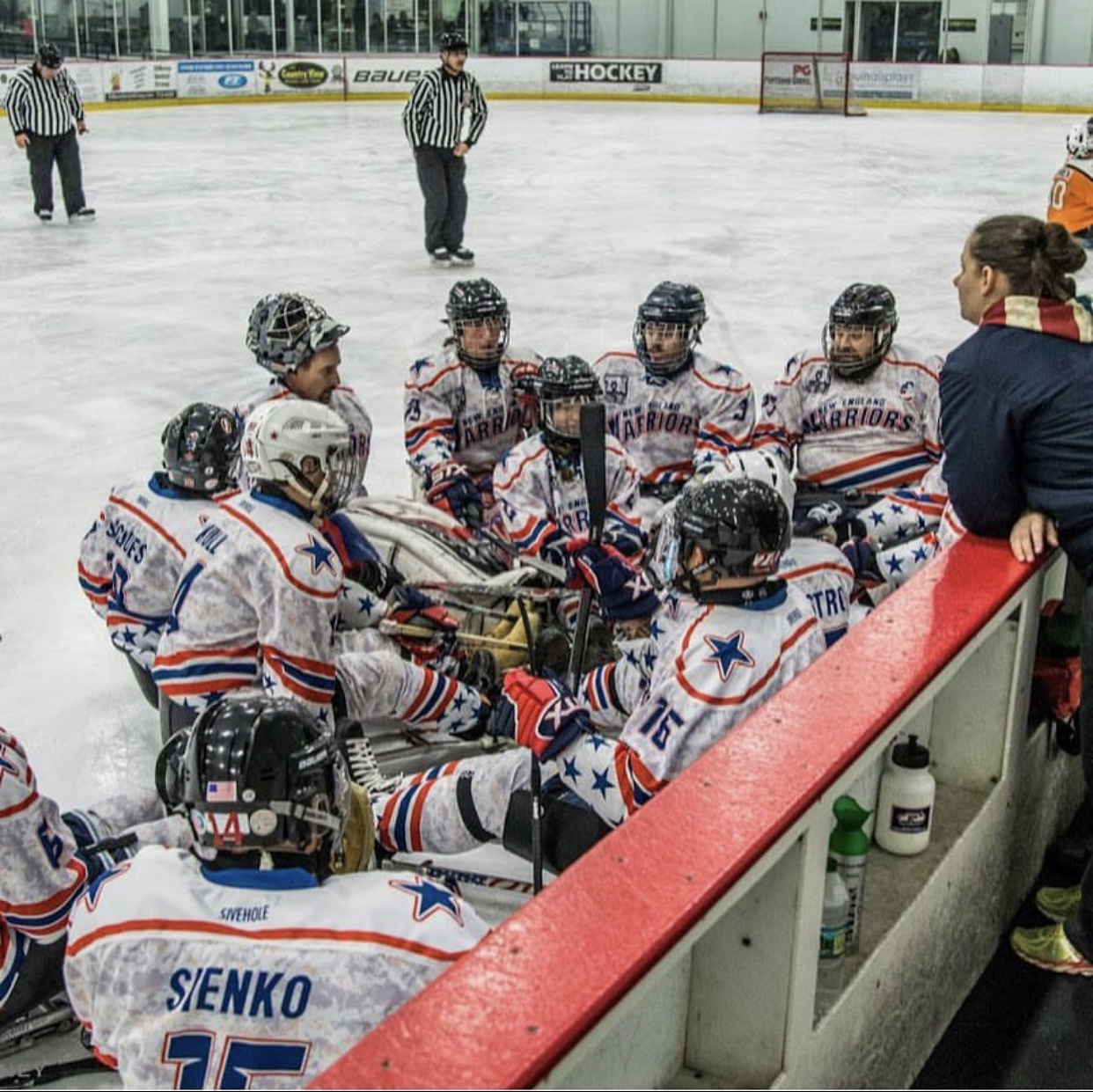 "A tremendous challenge for our program is that hockey is an expensive sport; and with it being adaptive (sled) hockey, it makes things a little more expensive. Most of our disabled veteran players have a limited income and would not be able to play sled hockey, so our organization makes it so they don't have to worry. We provide everything they need from ice time to equipment, travel, and hotels. So, all they have to do is show up and play. Having programs such as the New England Warriors are hugely beneficial to everyone involved on the team.  For example, it helps for the reintegration from the military back into a civilian environment, it helps the veterans break the stigma of being "broken" because they may be dealing with invisible injuries, which is the concern with veteran suicide rates still being astronomical.
Our chapter, the New England Warriors, is entering our 6th year in operation. We not only have players continuing to come back year after year, but our suicide prevention rate within our chapter is 100% and we've won some national trophies and banners. On-ice success is great, but it's the 100% survival rate for our veterans that is our greatest achievement."
"Our team stumbled on Boost walking through a Dick's Sporting Goods and it was one of those "it's not a bad price, let's grab a bottle and see if it actually does anything; worst case, it doesn't work and we're out a couple bucks". That was almost 2 years ago, we love Boost, and we use it as often as we can.
Even though it might not look like it, sled hockey is a physically demanding sport, especially of for many the players on our team who are mostly ill, injured and wounded veterans, there is a lot of cardio that happens, during games we keep a couple cans on the bench so when players come in for a shift change, they can use Boost, and be ready and good to go for their next shift."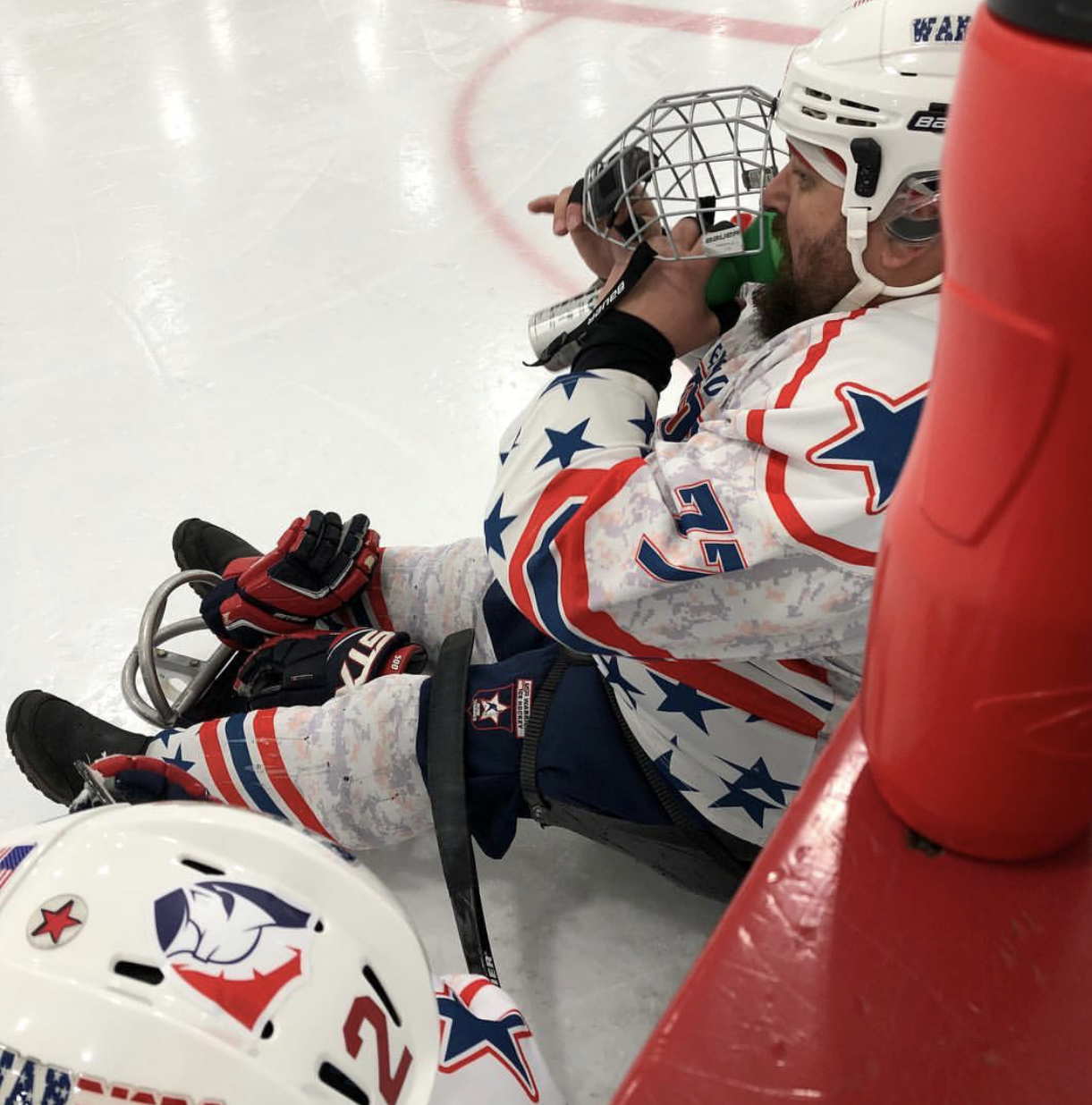 Stay inspired and connected with the Warriors on their social media: Facebook: @NEwarriorssledhockey, Twitter: @NE_warriors and Instagram: @newarriors
---
We are so proud to know that the New England Warriors fuel their on-ice performance with Boost Oxygen – the same way players and teams in the NHL, AHL, ECHL, USHL NCAA, youth and adult hockey teams do!
If you are interested in becoming a sponsor of this amazing and inspiring organization, please reach out to the New England Warriors Team Manager (and Volunteer!) Nichole Ramsdell at 757.589.2478 or by email at newarriors@yahoo.com – learn even more about the organization by tapping or clicking on the image below for the newenglandwarriors.org website:
If you think the name Christy Gardner sounds familiar, and you are a fan of CBS Sunday Morning, then you are right…Christy and her service dog Moxie were featured on the program – you can watch the segment, here: