May 10, 2021
The Connecticut Coasters share the benefits of using Boost Oxygen
"The Connecticut Coasters is a professional inline hockey team based out of Plainville, CT that competes in the Professional Inline Hockey Association (PIHA). We play in the East Coast division against other teams from New York and Pennsylvania; this past year was our first season in the league. Our players hail mostly from Connecticut but have some Boston guys as well that make up a team of 12 skaters and 2 goalies. Many of our players have previous experience playing PIHA, as well as DI college ice hockey, and professional ice hockey.
The PIHA is a league that was founded in 2002 and has been the premier professional inline hockey league in the United States ever since. There are 3 divisions: East Coast, West Coast, and Rocky Mountain. This season we only played 12 games due to Covid, but nevertheless, we are grateful we were able to play any. Usually, a complete season is 20 games. From our division, the PIHA will send two teams to the PIHA Finals in Colorado Springs, and one team from each other division. The third weekend in May, all teams that made it will meet at Legends Family Sports Facility and compete in a round robin tournament to declare the winner of the league."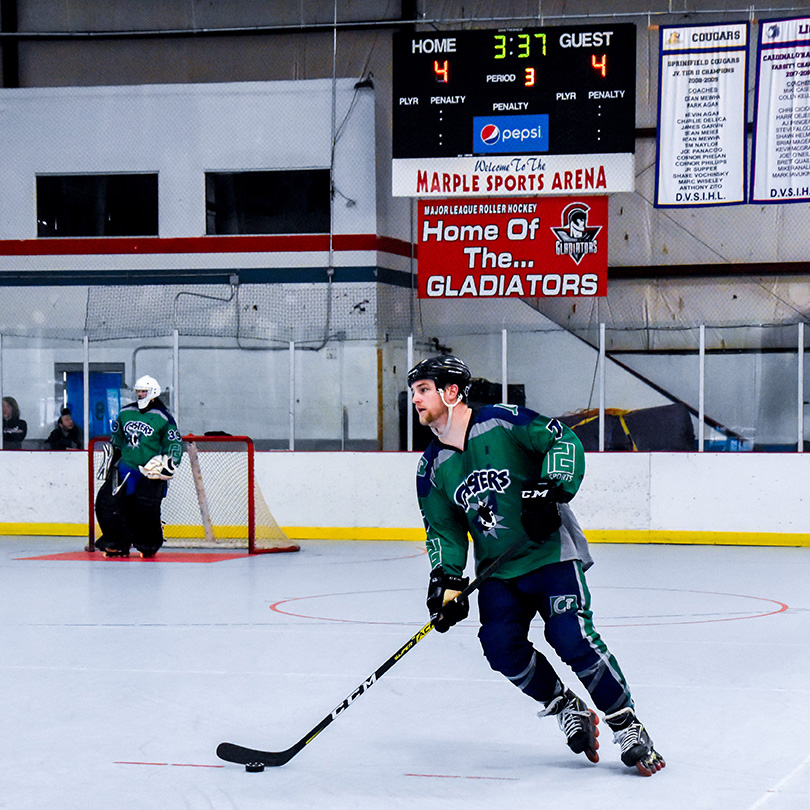 "Our implementation of Boost Oxygen has been a huge help in our players' performance. Inline hockey is played 4 on 4 and for all weekends we only had 8 skaters; our playoff semi-final match up, we only had 6. Quick recovery plays a huge role in getting our players ready for the next shift. Boost Oxygen has enabled our players to recover quick from shifts and at the same time keep their stamina strong for the whole game. So much so, our top scorer not only led our team in points, goals, and assists; but the entire East Coast division! After seeing NHL players, including the conn smythe winner, inline hockey players in Colombia, and other athletes use Boost Oxygen, we knew we needed to implement it. One player likes it so much, he even started using it for dek hockey!"
We'd like to thank Robbie Baillargeon for implementing Boost Oxygen to support the on-ice performance, on-the-bench recovery and game results of the Coasters!
Robbie's Bio: from Enfield, Connecticut and grew up playing for the New England Junior Falcons. Played one season at Enfield High before moving onto Cushing Academy for 2 years where he earned prep player of the year in his 2nd year. Matriculated to the Indiana Ice in the USHL for 2 years earning NHL prospects game MVP in 2012. Drafted by the Ottawa Senators in the 2012 NHL Entry draft 136th overall. Attended 3 development camps. Entered BU in the fall of 2013 playing 3 seasons for the Terriers. Named to the Hockey East All-Rookie team freshman year. Sophomore year won multiple championships with the Terriers, including the Beanpot, Hockey East regular season, Hockey East tournament, and made the Frozen Four in Boston losing to Providence in the National Championship game. Senior year, did a graduate transfer to Arizona State to play on their first ever D1 NCAA team while earning his Master's degree in Sports Law & Business. Played two years professionally after college, first year in the ECHL for South Carolina Stingrays and Orlando Solar Bears and second year for the Milton Keynes Lightning in the EIHL in England.
Hockey players of every type and at every level of the sport trust Boost Oxygen. It's in-use by National Hockey League teams (including the current Stanley Cup Champions, the Tampa Bay Lighting), American Hockey League, East Coast Hockey League, Southern Professional Hockey League, United States Hockey League and the NCAA.
In addition, non-professional players have a Boost in youth hockey, Juniors, adult competitive and adult beer leagues, too! Purified supplemental oxygen isn't just for professional athletes anymore. You can give yourself a Boost at sporting goods retailers nationwide, visit the Store Locator at BoostOxygen.com.
Hockey players get theirs at hockey specialty stores, including Pure Hockey, Precision Blades and East Coast Hockey and Skating Supply as well as at trusted sporting goods retailers nationwide: Academy Sports + Outdoors, Dick's Sporting Goods, Big 5 Sporting Goods, Sun & Ski Sports, Christy Sports, Bass Pro Shops, Cabela's, Sportsman's Warehouse and Dunham's Sports.