Feb 3, 2022
Boost Oxygen fortsätter sin nationella expansion med Lowe's Home Improvement
As homeowners and professional contractors recognize the benefits of using Boost Oxygen, we are proud to announce an expansion of in-store availability at select Lowe's Home Improvement locations!
A floorstand of Boost Oxygen canisters can now be found at PRO checkout and regular checkout at ALL Lowe's Home Improvement stores in the following states: Maryland, Virginia, Delaware, West Virginia, Ohio, Indiana, Illinois, Wisconsin, Michigan, Pennsylvania, New Jersey, New York, Connecticut, Rhode Island, Massachusetts, Vermont, New Hampshire, Maine and the District of Columbia.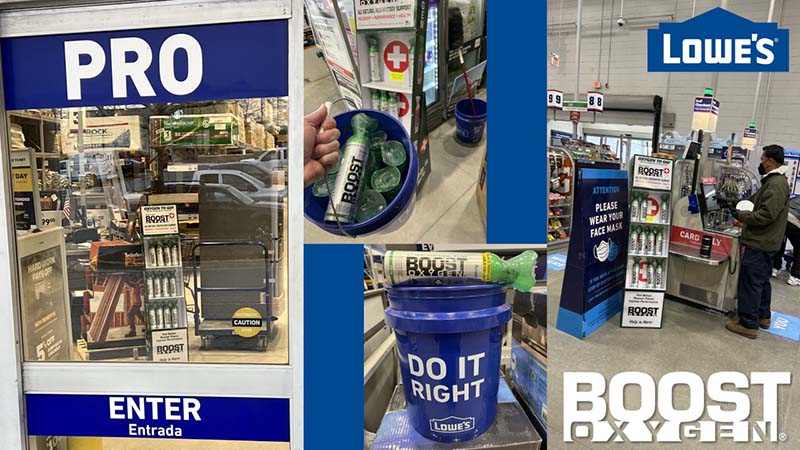 Why Boost Oxygen? There's 21% oxygen in the air we normally breathe. Boost Oxygen canisters contain 95% pure supplemental oxygen – that's nearly 5X the amount of oxygen in the air.  Boost Oxygen canisters are also lightweight, easy-to-use and 100% recyclable.
Many home improvement projects are physically demanding or might require extended wearing of a face mask. Purified supplemental oxygen is an all-natural respiratory support that can provide healthy energy, endurance, mental refreshment and clarity. Plus there's no sugar, caffeine or crashing that is associated with soda or energy drinks.
DO IT RIGHT. Give yourself a Boost at Lowe's!
Boost Oxygen finns nu på Lowe's Home Improvement
Husägare, gör-det-själv-folk och professionella entreprenörer handlar alla på Lowe's Home Improvement och kan nu lägga till Boost Oxygen på listan över varor att hämta vid nästa besök!  
Boost Oxygen är en helt naturlig produkt för stöd till andningsorganen, och det 95 % rena kompletterande syret från Boost Oxygen stödjer din energi, fokus, mentala klarhet och uppfräschning av andningen när du bär ansiktsmasker under lång tid. Typiskt sett var de som påbörjade heminredningsprojekt de enda som bar ansiktsmask under längre perioder för att veta hur det känns; nu, och sedan mars 2020, är vi alla bekanta med det - ge dig själv en Boost!   
Som den främsta och mest betrodda globala ledaren när det gäller att göra lätta och bärbara flaskor med syrgas för flygare tillgängliga i detaljhandeln, gör vår patenterade maskdesign det möjligt att aktivera syrgasflödet genom att aktivera den med en hand.Den är 100 % säker och naturlig för användning av alla åldrar och vi är mycket stolta över att vara tillgängliga för alla kunder hos Lowe's Home Improvement. 
Du hittar din Boost i butiken, bekvämt placerad i golvställen vid kundkassan OCH vid kassan för professionella/entreprenörer - den är lätt att använda på arbetsplatsen! Detta är samma Boost Oxygen som fick ett erbjudande på 1 miljon dollar från "Mr Wonderful" Kevin O'Leary på "Shark Tank", som används av professionella idrottsmän och deras certifierade idrottstränare och som har setts i högprofilerade TV-program som "The Voice", "American Idol" och "TODAY" showen.  
Finns för närvarande i alla Lowe's-butiker i regionerna Mid-Atlantic och Rocky Mountain, be om en Boost i din närliggande butik och kolla vår butikslokalisering för att hitta den närmaste återförsäljaren.