Apr 12, 2021
A PROMISE KEPT – BOOST OXYGEN CONTINUES ANNUAL DONATION TO THE CONNECTICUT FOOD BANK
MILFORD, CT, UNITED STATES, April 12, 2021 – During the early stages of the pandemic last April, Boost Oxygen donated $5,000 to the Connecticut Food Bank. When schools closed during the pandemic and millions lost employment, food banks across the country were still there to supply daily meals to those that needed it at a crucial time.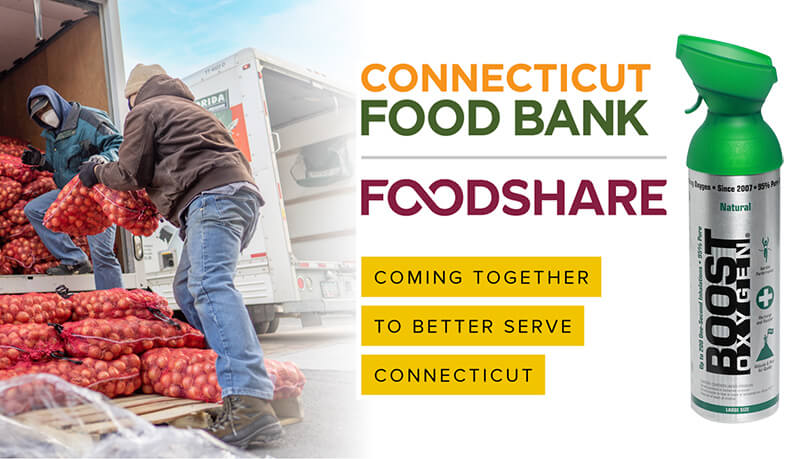 A year later, while there is optimism that the nation is recovering from the pandemic, we can't forget about food banks and the stability they provide to their communities. Boost Oxygen hasn't forgotten a promise we made in 2020 to continue our annual donation to the Connecticut Food Bank, which has recently combined with Foodshare. Not only have we given another $5,000 for 2021, but we're also asking our Boost Oxygen global community to help the cause.
Boost Oxygen has set up a special donation button on our Facebook page, with all proceeds going to the Connecticut Food Bank/Foodshare. We encourage everyone to help – any amount is appreciated. You can donate at @BoostOxygen or visit Facebook.com/BoostOxygenUSA
"We have seen an increased demand for food assistance throughout the state due to COVID-19. We are grateful to supporters like Boost Oxygen, who continue to aid in our efforts to provide food to people struggling with hunger," said Jason Jakubowski, President and CEO of Connecticut Food Bank/Foodshare.
In Connecticut, food insecurity was estimated to increase by an alarming 28% in 2020 because of the pandemic, for a total of 545,000 people, including 164,000 children, across Connecticut who are at risk of hunger. Connecticut Food Bank/Foodshare works through a network of 700 community-based hunger relief programs, including food pantries, community kitchens, emergency shelters, mobile distribution sites, and more.
"Boost Oxygen was founded in Bridgeport, Connecticut, and we spent our first 10 years there at our first headquarters," said Rob Neuner, Boost Oxygen Founder and CEO. "We learned firsthand how much the children rely on the schools as their primary source of daily nourishment. When the pandemic hit and the schools closed, we were so impressed how the food bank stepped in and filled a serious void. They definitely have our support, and we hope others will join us and continue to support their efforts as well."
To learn more about Connecticut Food Bank/Foodshare or donate, please visit CTFoodBank.org or foodshare.org.
Om Connecticut Food Bank / Foodshare:
Connecticut Food Bank / Foodshare är Connecticuts livsmedelsbank och medlem i det nationella nätverket Feeding America. Vi tillhandahåller nästan 40 miljoner måltider varje år genom ett nätverk av mer än 700 samhällsbaserade program för att lindra hunger, inklusive matbutiker, gemenskapskök, nödbostäder, mobila distributionsställen med mera, samtidigt som vi arbetar med långsiktiga lösningar. Mer än 8 000 volontärer hjälper till att driva matbankens arbete. förra året gav de mer än 62 000 timmars tjänstgöring.
Om Boost Oxygen:
Boost Oxygen är bärbart 95 % rent kompletterande syrgas för helt naturligt andningsstöd. Inget recept behövs. Det används av idrottare för återhämtning, äldre vuxna för en aktiv livsstil, personer på höga höjder för höjdacklimatisering och de som upplever dålig luftkvalitet. Visste du att luften vi andas innehåller endast 21 % syre - majoriteten är värdelös 78 % kväve. Boost innehåller nästan fem gånger så mycket syre som du normalt andas och ger enkel och omedelbar tillgång till extra syrgas.
As seen on Shark Tank! Based in Milford, Connecticut, Boost Oxygen is a Made in the USA product, available at retailers nationwide and exported worldwide. For more information, images, and studies about the benefits of oxygen, visit BoostOxygen.com or their Learning Center at Learn.BoostOxygen.com. Follow Boost on social media: Facebook: @BoostOxygenUSA, Twitter: @BoostO2, Instagram @boostoxygen, Pinterest: @BoostO2, LinkedIn: @boostoxygen and our YouTube Channel: Boost Oxygen.