LARGE: 10 LITERS
Over 200 One-Second Inhalations
MEDIUM: 5 LITERS
Over 100 One-Second Inhalations
POCKET SIZE: 3 LITERS
Over 60 One-Second Inhalations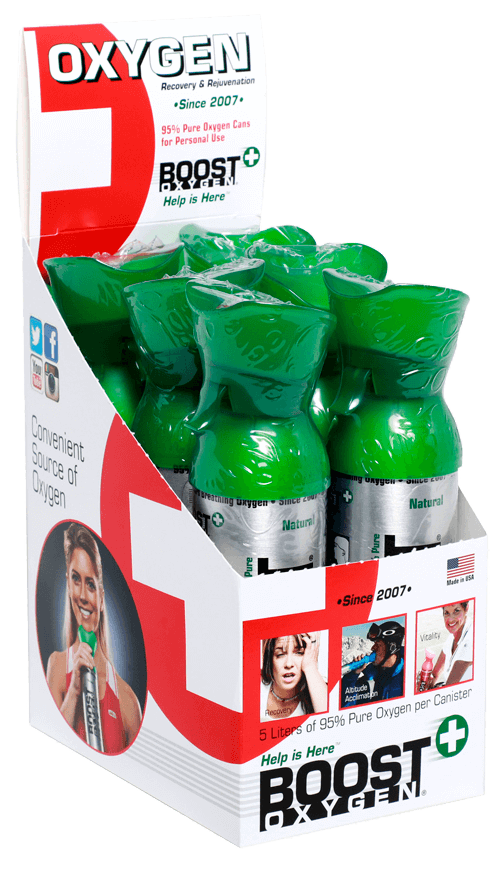 Flat Rate Shipping of $15.00 for All Orders Under $50.00. [Link: Learn Why We Don't Determine Shipping Costs] Parcels ship FedEx Ground from Milford, CT. For approximate delivery times, please see the Fed Ex delivery zone map here. We can only ship Boost Oxygen to addresses and PO Boxes within the continental United States.
Certain Boost Oxygen canisters are available for shipment to Hawaii, Alaska, and Puerto Rico. For more information please contact us via email at info@boostoxygen.com or by phone at 203.331.8100. Boost Oxygen cannot be shipped to Guam or the U.S. Virgin Islands.
Place up to mouth, press button firmly and inhale. Place mask under nose and over mouth. Press trigger down to activate flow. Breath in through the mouth.
Pocket Size Boost Oxygen canisters contain over 3 liters of Aviator's Breathing Oxygen. This equates to approximately 60 seconds of continuous oxygen flow. People report enjoying approximately 60 inhalations of varying length. Medium Boost Oxygen canisters contain 5 liters of Aviator's Breathing Oxygen, which is up to 100 one-second inhalations. Large Boost Oxygen canisters contain 10 liters of Aviator's Breathing Oxygen, which equates to over 200 seconds of continuous oxygen flow, or over 200 one-second inhalations.
WHEN TO REPLACE THE CANISTER
Boost Oxygen is pressure filled only into the can (sort of like a tire). No aerosols or propellants are used. As the can depletes, the pressure of the oxygen flow from the can will also deplete until finally empty. When the oxygen no longer flows, the can is empty.
HOW DO I RECYCLE THE CANISTER?
Our canisters are made out of aluminum, which means they are recyclable. They can be disposed of along with the normal cans you recycle everyday!