Jan 13, 2021
Meet Paul Lachance: Boost Oxygen ambassador, Spartan runner and cancer conqueror
Paul Lachance is turning 80 years old in July – and he's still as tough as they come. He not only survived cancer, but then went on to compete in 15 Spartan races. He's been a longtime ambassador for Boost Oxygen and uses it daily for recovery after his workouts and as an all-natural respiratory support for his everyday activities.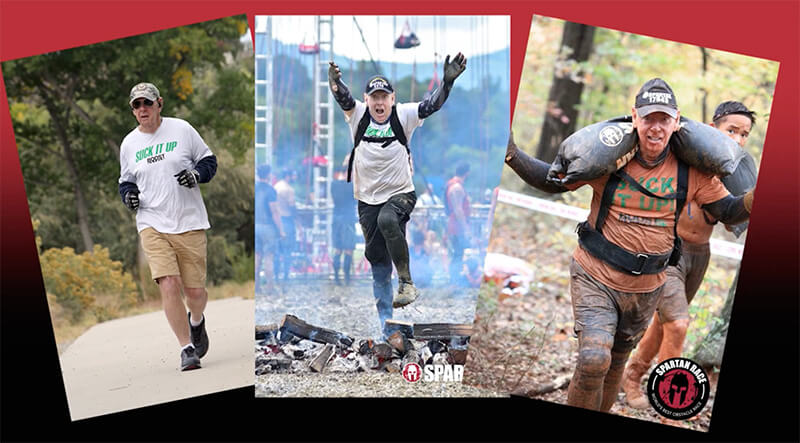 Want to learn more about Paul? Read this Spartan.com feature article about him:
(PS – in case you're wondering, he's not done competing yet! GO PAUL!)
FULL ARTICLE AT SPARTAN.COM: https://www.spartan.com/blogs/unbreakable-race-stories/spartan-paul-lachance
Related: Paul Lachance featured in the Wall Street Journal (requires login)
Meet 77-Year-Old Cancer Survivor Paul Lachance
BY THE SPARTAN EDITORS
Spartan Paul Lachance, 77, was never going to let skin cancer stop him from running. No way.
In 2015, after doctors found a large tumor in his lower lip and diagnosed him with skin cancer, Lachance underwent immediate surgery to remove the lip. He then saw a plastic surgeon the next day who helped him through reconstruction surgery. All seemed well, and he was back to racing Spartan obstacle courses.
But two years later in 2017, his skin cancer came back to the left side of his lower lip and jaw. Doctors said it was very serious, as the tumor had grown and wrapped itself around a nerve that ran to the base of his skull. His medical team then ordered extensive chemotherapy and radiation treatments starting in January of 2018 to eradicate the cancerous cells as quickly as possible. He started losing weight, lost all sense of taste, and couldn't eat or drink normally. His treatments stopped that February, but he still struggles with these symptoms to date. During these invasive treatments, all he wanted to know from his radiologist was how soon it would be before he could race again — when he could squeeze under barbed wire, hoist himself over slippery walls, and run through miles of mud to the finish line. Lachance had one goal in mind: to recover ASAP and bag 5 Trifectas in one calendar year.
After a prolonged and challenging recovery period, Lachance's doctors declared him cancer-free. Almost immediately, rehabbing his mind and body became the first priority. Now, Lachance is back in good health and to prove it, he's aiming to complete 15 Spartan Races this year: 5 Trifectas in 2019 These races are hard enough to master at full health for most, let alone during recuperation and rehab, but Lachance is not going to let cancer get in the way of his mind, body or spirit. His Spartan caught the attention of the Wall Street Journal who featured his workout and heroic, comeback story.
Watch this exclusive interview with Paul Lachance on TV8 Vail:
How Paul Lachance Discovered Spartan Races
"In April of 2006, at the age of 65, I had a major heart event that resulted in a quintuple by-pass. For most people that would be enough to end an active lifestyle. However, I refused to give in and was determined to actively live my life and not sit on the couch and vegetate. I started at a local gym (with the blessings of both my personal physician and cardiologist) and watched and mimicked what the younger people were doing.
I was also searching the internet for various methods of improving myself when I came upon something called a "Spartan Race".
As the Spartan website states, their goal is simple: to get you off the couch, throw you in the mud and on trails, and the result will be the adrenaline rush of a lifetime.
Paul Lachance Versus Skin Cancer
The fall of 2017 was again marked by the return of skin cancer on the left side of my lower lip/jaw. This time it was serious. The tumor had wrapped itself around a nerve that ran from the jaw all the way to the base of the skull. Though the pathology showed that the tumor was completely excised, the medical team took no chances of an errant cell traveling along that nerves so both radiation and chemo treatments were ordered to start in January 2018. The first couple of weeks went easy…no problems. Towards the end of January and the beginning of February all hell broke loose…lost all taste buds, could not eat or drink normally, and started losing weight. Actual treatments stopped in late February but the side effects continue to this date.
As of this writing, I have dropped approximately 35 pounds and 6 inches around the waist. My wardrobe is slowly being replaced to fit my new body.
Paul Lachance: 15 Races or 5 Trifectas in 12 Months
I know that I am not at 100% of what I can do but I also know that sitting around and whining is not what I want to do. I may be the slowest guy out there but I am giving 100% of what I have and with each step forward I am getting a little bit stronger.
I'm turning 78, and have 2 Supers, 3 Sprints, and 5 Beasts scheduled…I will get my 5X Trifecta this year!
Let me give a shout out my support groups: Spartan participants – always encouraging and living up to the motto of "you never race alone"; Facebook friends who are so positive; gym goers for being there at 5AM and pushing me to be better; my oldest son for pushing me up the hills (literally); American Warrior Initiative for believing in me; Boost Oxygen for all they have done to keep me breathing; and most of all, my # 1 support – my wonderful wife, Davida, for encouraging me along every step of this Dirty Old Man journey.
See you on the trail…
– Paul Lachance