Oct 12, 2021
Justin Uses Boost Oxygen from the Boston Marathon to the Ragnar Trail
Long-time Boost Oxygen advocate Justin Scholl is taking his running from the pavement to the trails – and bringing along his Boost Oxygen. We are very proud to share his very first Ragnar Trail race experience here…and, SPOILER ALERT, he and his team won the event by more than an hour!

"This was my first ever Ragnar Relay event and I had an absolute blast!!! I was able to hang out and race with some awesome friends and finally get to meet and hang out with some people for the first time.
Friday me and a few teammates went early to stake a claim to a decent chunk of area so that all 4 teams would have the same pit/camping area. It was great having everyone together to be able to help one another and just relax together. Friday night was just about relaxing and getting ready for race day. So me and a few teammates went down to the bar, bought a beer for charity, and hung out by the fire. Friday was cold, damp, wet and simply just sucked. On Saturday morning my 3 teammates showed up and we finished our pit/camp area.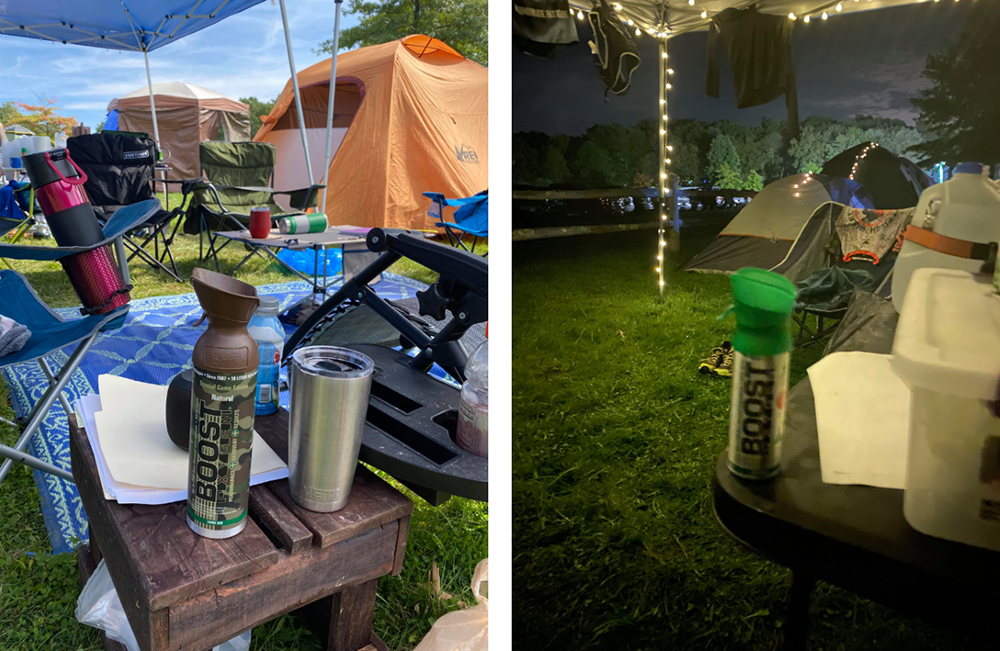 We started the race at 2pm and Brent Snyder was runner one and I was second. I had the Red and Green loop first. The Red loop during the day was hands down the most fun trail I have ever run, I was cruising and finished that in 1:07:00, hit transition and went right into my green loop. Green is the shortest but has the biggest climbs and, well, I hate climbing so that was easily the worst loop for me…still ran it in like 44 minutes. Christopher Andrews and Seth Baumiller would run after me. As soon as my loops were done I grabbed a great pizza and a beer and tried to take a nap. However as I'm lying there I hear red loop has bears all over the loop please use caution. Well my second loop was yellow and red. I knew I would be slower at night as this was the longest loop, and well it's night time, annnnnd I'm half blind running. Seth asked me was I was thinking time wise and I said 2:30:00 – I was able to come in just under that. Something about running alone in the woods at night is soooo peaceful but also so terrifying at the same time for me. Finished those loops, changed, and was able to get a solid 45 minutes of sleep; then it was just a waiting game really.  My final loop was green and yellow.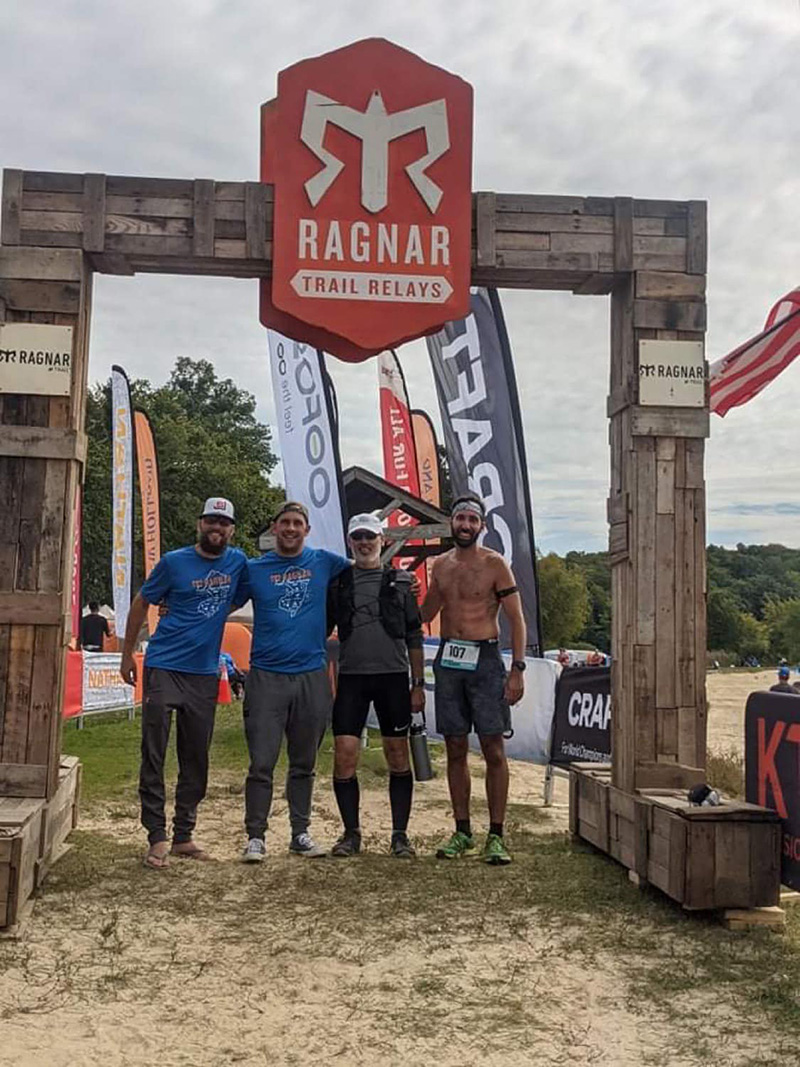 As Brent handed me the bib and slap bracelet to head out Seth yelled: you better push!!! So off I went and I started hauling in the first mile and a half as I knew the climb was gonna kill me and I would be power hiking it. I looked at my watch at the top of the climb and was like "oh yeah, I'm flying". I came in at 41 minutes thinking no one would see me…and there Seth was yelling "yeah dude, you're killing it let's go!!!!" Yellow in the daylight wasn't nearly as much fun as at night and I think that's because I was trying to push so hard. Anyway finished both loops in 1:51:00.
Now that my race was over it was time to have Chris and Seth finish their loops to finish. We finished as a team and had a great experience.  Unofficially we should have completed 126 miles in 22 hours 52 minutes and like 30 some seconds. My total time on course for 50k was 6 hours 10 minutes and 21 seconds. Super proud of my 3 teammates and the other LVS teams!! I know for a fact that I will definitely be back at this race next year!!!
I love the performance support of having Boost Oxygen. I'm not as strong uphill as I'd like to be, so having that extra shot of Boost on those long uphills really keeps me going. Then, coming in after a 10 or 11 mile loop, knowing I have to wait a few hours until I went back out, Boost is able to help me recover quicker and feel better to head out for that next set of loops."
Well done Justin, and congratulations to you and your entire Lehigh Valley Spartans team. Good luck next year in defense of your 1st Place finish!
Looking for more running inspiration? Check out Justin's Boston Marathon experience: https://learn.boostoxygen.com/justin-scholl-and-the-boston-marathon
Boost Oxygen is the #1 worldwide purified supplemental sports oxygen choice for all athletes competing in any sport, race or competition – from youth to professional. Give your performance, recovery and results a Boost at your favorite sporting goods retailers, including: Dick's Sporting Goods, Academy Sports + Outdoors, Dunham's Sports, Sun & Ski Sports, Christy Sports, Bass Pro Shops, Cabela's, Sportsman's Warehouse, Big 5 Sporting Goods, Hockey Monkey, Pure Hockey and SCHEELS. Visit the BoostOxygen.com Store Locator to find the store closest to you!