Sep 26, 2023
Perché si può dipendere dalla qualità dell'ossigeno Boost
We go to great lengths to ensure the quality and dependability of Boost Oxygen – from our manufacturing process, made in the USA, our sealed and patented mask for protection from dirt and bacteria and more. Learn more about our quality and dependability and why we are the global leader in portable supplemental oxygen.
Perché Boost Oxygen è il leader nell'ossigeno supplementare portatile
Founded in 2007, Boost Oxygen has been the entrepreneurial pioneer for developing a new retail category: 95% Pure Supplemental Oxygen in lightweight, portable and affordable canisters for health, recovery, natural energy and athletic performance.
There are several reasons why Boost Oxygen is the leader in portable supplemental oxygen. We have been fortunate to partner with terrific suppliers, retail partners, employees, contractors and many other people and organizations who have all taken a little chance on Boost Oxygen, and all have been major factors in our growth and success. We wanted to share some of these reasons with you, our loyal customers.
WE PROTECT OUR HARD WORK AND PROPERTY
Through extensive testing and innovation, Boost Oxygen developed and patented masks and actuators for one-handed ease of use and ergonomic benefits of various sized cans to offer the perfect balance of convenience, size and value. Boost Oxygen has worked with the U.S. Department of Transportation, Federal Aviation Administration and Consumer Product Safety Commission to develop supplemental oxygen products that were safe, legal to use without a prescription, compliant to package, ship and store, and most importantly, could deliver value to the consumer for any non-medical use. You can view our mask patents below:
Also, like any business pioneer that fights infringing products, we have been forced to defend our patent against companies who have copied our mask design. We successfully defended our patent and have been awarded judgements against these companies. We feel it's important for any business to protect their hard work and intellectual property. You can read the public judgement against one brand that infringed on our product below: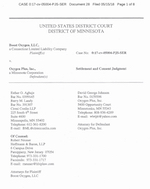 WE BELIEVE IN HONESTY, TRUST AND INTEGRITY
Since CEO Rob Neuner founded Boost Oxygen in 2007, he has built the foundation of the company on honesty and integrity. Boost Oxygen is for healthy people looking to enjoy the benefits of portable supplemental oxygen in their lifestyle. It is not intended for medical purposes. We believe in being up front and honest about our product.
Other knockoffs seek to confuse consumers with claims about FDA-registered facilities, but this does not mean they are FDA approved. No portable supplemental oxygen company is FDA approved. Unlike these knockoffs, we don't make false or fraudulent claims.
Building and maintaining trust with our customers is important to us. It's important that you trust our product will work when you need it. It's important that when you use our product, you trust you are getting 95% pure oxygen.
We also provide CERTIFIED lab testing results of Boost Oxygen on our website for customers to read. Some people think our product is "canned air", but our canisters contain 95% pure oxygen. The air we normally breathe contains only 21% oxygen, with the majority being useless 78% nitrogen. We just received our latest 2020 report from Atlantic Analytical Laboratory (AAL), the number-one expert gas analysis laboratory in the northeast United States for nearly 50 years. See the results for yourself below:
Finally, many people ask us why our canisters are so lightweight. That's because oxygen is a nearly weightless gas, so our canisters are lightweight. We even print it on our canisters. We've been asked why we don't add weight to our canisters to make them feel "more full", but that would be disingenuous and would only increase the cost of our product for the consumer. Rest assured, even though our canisters are lightweight, they are very full of 95% pure oxygen!
STUDIES SUPPORT THE BENEFITS OF BOOST OXYGEN
Are there scientific reports and studies that support the benefits of Boost Oxygen? Yes, there are published reports by scientists, researchers and universities that not only support supplemental oxygen, but specifically our Boost Oxygen product of portable 95% pure oxygen for all-natural respiratory support. A university study was recently published using Boost Oxygen to study the effects of supplemental oxygen with increased athletic performance and recovery rates: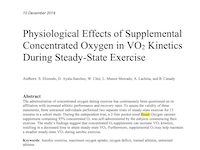 From the study abstract:
"The administration of concentrated oxygen during exercise has continuously been questioned on its affiliation with increased athletic performance and recovery rates. To assess the validity of these statements, three untrained individuals performed two separate trials of steady-state exercise for 15 minutes in a cohort study. During the independent trial, a 2-liter pocket sized Boost Oxygen canister supplement containing 95% concentrated O2 was self-administered by the subjects commencing their exercise. The study's findings suggest that concentrated O2 supplements can increase VO2 kinetics, resulting in a decreased time to attain steady-state VO2. Furthermore, supplemental O2 may help maintain a steadier steady-state VO2 during aerobic exercise.
Conclusion
From our study's findings, we can assume that Boost Oxygen's supplemental oxygen canister can cause improvements in VO2 kinetics and reduce oxygen deficit when administered just prior to aerobic steady- state exercise in untrained individuals. Furthermore, supplemental concentrated oxygen may help maintain a steadier steady- state VO2."
In other words, the study found that Boost Oxygen can increase oxygen levels in the body. It also found that Boost Oxygen can help maintain higher oxygen levels in the body during aerobic exercise.
To read even MORE STUDIES that support Boost Oxygen and supplemental oxygen.
THE QUALITY OF THE BOOST OXYGEN PRODUCT
Boost Oxygen is proudly made in the USA and filled by our suppliers in Maryland and Wisconsin. During the production process, our canisters are vigorously tested every step of the way. Our canisters are also hermetically sealed airtight for your safety to protect against any pollutants and bacteria, so you can feel safe about using our product when you purchase it. We are also an environmentally green product that uses 100% recyclable aluminum and completely safe food-grade masks. You can recycle our canisters with the normal cans and bottles that you recycle every day.
OUR QUALITY TEAM MEMBERS, SUPPLIERS AND RETAIL FAMILY
For every canister of Boost Oxygen you purchase there's thousands of employees that helped bring it to you, including over two dozen trusted vendor and supply companies, our valued retail partners (both large stores and local shops and pharmacies), our sales reps across the United States and our team at our Connecticut headquarters. Each day our team takes great pride in working together to bring Boost Oxygen to consumers around the world – and we couldn't do it without the thousands of people that work for our vendors, suppliers and retailers!
A SPECIAL THANKS TO YOU – OUR CUSTOMERS!
Above all, what makes us the leader in portable supplemental oxygen is YOU, OUR VALUED CUSTOMERS! Since Boost Oxygen launched in 2007, we have grown every year thanks to our loyal customers who keep coming back to use our product. We now have over 95% market share of portable supplemental oxygen. That says a lot about customer dedication to our product and brand! We have many terrific customers who have been with us from the early days, and their adoption and continuous advocacy is the foundation on which this company has been built. Our greatest satisfaction has come from the thousands of amazing testimonials we have received from our customers, it inspires us each day and makes all the work worthwhile.
To everyone who has used and enjoyed our product since 2007 – we want to say THANK YOU for your support! Without you, we wouldn't be here. We hope you will continue to support us as we continue to grow in the decades to come!