Feb 27, 2018
There's no one part of the country that has a monopoly on fun challenges. From coast to coast, and certainly beyond the continental U.S., there are amazing views and exciting achievements that are well worth the struggle.
From scrambling up Hawaiian hills to rock climbing in Nevada to Florida beach jogs to an oceanside celebration in SoCal, four Dyrt Rangers proved there are all kinds of ways to test yourself in the outdoors and savor nature…even if you aren't feeling quite up to snuff.
Boost Oxygen's varied can sizes make it even easier to pick how much oxygen you want to bring along, and the medium size is especially perfect for tossing into a backpack. All four adventurers found Boost could help them go further and higher than they normally might push themselves—and the rewards were incredible!
Hiking in Hawaii
When Laura H. tackled Kahana Valley State Park in Oahu, Hawaii, she purposely chose an extra challenging trail to test out Boost. "I chose to use Boost Oxygen on a trail that gains elevation – fast. The trail climbs up and overlooks the campground and all of Kahana Bay," she says. "It's arguably the best view on all of Oahu. For real!"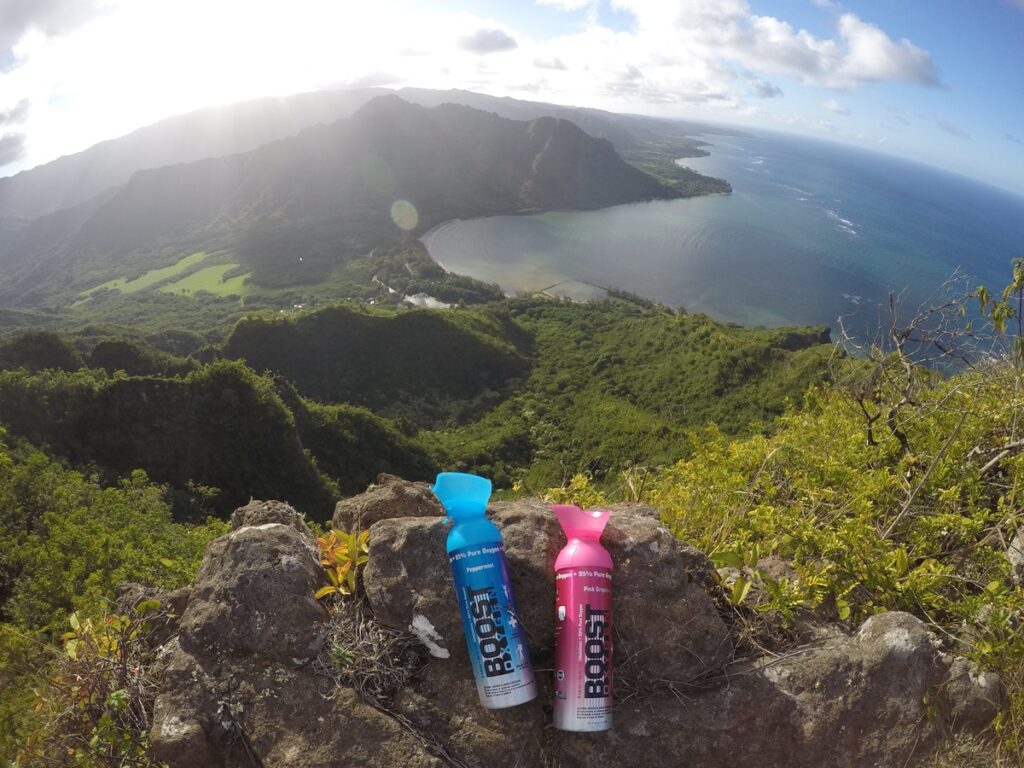 "To be completely honest, I was really hesitant about trying this product out because I didn't think I would feel any difference from using it. And in reality I didn't feel a difference…at first. Then I went up and up on the steepest sections of the trail where it turns into a climbing scramble. I got to where I planned to stop and was just blown away. I'm not going to lie, I felt awesome. I made it up the mountain fast, didn't need to stop much, and most of all, I didn't feel wiped out at all. I was impressed."
Climbing in the Desert
Brittany F. has experimented with Boost Oxygen before on a trip to San Gorgonio in SoCal. This time around, she hit the Red Rocks in Nevada and included a can with her chalk, rope, Grigri, and quickdraws. She explained, "We took the medium size with us the first day out on the rocks. It was the perfect size to throw into our packed down climbing bag and gear."
Jogging on the Beach
Frequent beach jogger Nancy W. wanted to see what would happen if she used Boost Oxygen to help her recover from her runs in Grayton Beach State Park. "I spend a lot of time jogging on the beach and find that the soft sand can be quite taxing on my body and provide a great aerobic workout," she said.
"After a workout seemed to be the perfect time to try to Boost Oxygen, which claims to help your body recover after aerobic activity. Admittedly, I was a little skeptical that a few hits of canned oxygen could really have that much of an impact on your recovery time. But, it was surprising how just after four hits, I felt less winded and got my breath back. I found that if I took really long deep inhales of Boost it worked better than shorter ones."
Celebrating at the Beach
Speaking of recovery, Chanel C. used Boost to bounce back from an adventure of a different sort, and used a whole medium can to combat a hangover she sustained after ringing in the New Year at San Clemente Beach.
"The medium can is perfect for 1 person, and the large can was great for sharing. As for my hangover, it definitely improved my recovery! I felt less nauseous, and dizzy. I wouldn't claim my hangover disappeared completely, but there is no doubt that it alleviated some of the side effects."
It sounds like these ladies had some seriously good times, and it's safe to say we're a little envious. If you're curious about the benefits of breathing 95% purified canned oxygen, whether you're conquering mountains or struggling to get out of your sleeping bag, let us know how it goes!