3 febbraio 2022
Boost Oxygen prosegue l'espansione nazionale con Lowe's Home Improvement
As homeowners and professional contractors recognize the benefits of using Boost Oxygen, we are proud to announce an expansion of in-store availability at select Lowe's Home Improvement locations!
A floorstand of Boost Oxygen canisters can now be found at PRO checkout and regular checkout at ALL Lowe's Home Improvement stores in the following states: Maryland, Virginia, Delaware, West Virginia, Ohio, Indiana, Illinois, Wisconsin, Michigan, Pennsylvania, New Jersey, New York, Connecticut, Rhode Island, Massachusetts, Vermont, New Hampshire, Maine and the District of Columbia.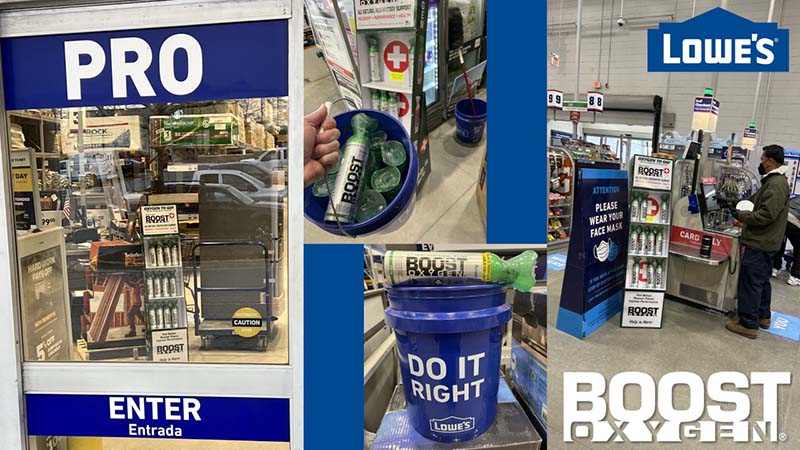 Why Boost Oxygen? There's 21% oxygen in the air we normally breathe. Boost Oxygen canisters contain 95% pure supplemental oxygen – that's nearly 5X the amount of oxygen in the air.  Boost Oxygen canisters are also lightweight, easy-to-use and 100% recyclable.
Many home improvement projects are physically demanding or might require extended wearing of a face mask. Purified supplemental oxygen is an all-natural respiratory support that can provide healthy energy, endurance, mental refreshment and clarity. Plus there's no sugar, caffeine or crashing that is associated with soda or energy drinks.
DO IT RIGHT. Give yourself a Boost at Lowe's!
L'ossigeno Boost è ora disponibile presso Lowe's Home Improvement
I proprietari di case, i fai-da-te e gli appaltatori professionisti fanno tutti acquisti da Lowe's Home Improvement e ora possono aggiungere Boost Oxygen all'elenco degli articoli da ritirare alla prossima visita!  
Come prodotto di supporto respiratorio completamente naturale, l'ossigeno supplementare puro al 95% di Boost Oxygen sostiene l'energia, la concentrazione, la chiarezza mentale e la respirazione rinfrescata dall'uso prolungato di maschere facciali. In genere, coloro che si imbarcavano in progetti di miglioramento della casa erano gli unici a indossare maschere facciali per lunghi periodi di tempo per sapere come ci si sente; ora, e dal marzo del 2020, lo sappiamo tutti: regalatevi un Boost!   
In qualità di leader mondiale di fiducia, il nostro design brevettato della maschera consente di attivare il flusso di ossigeno con una sola mano; è sicuro e naturale al 100% per l'uso da parte di tutte le età e siamo molto orgogliosi di essere disponibili per tutti i clienti di Lowe's Home Improvement. 
Troverete il vostro Boost in negozio, comodamente posizionato negli espositori alla cassa dei clienti e alla cassa dei professionisti/appaltatori: è facile da usare in cantiere! Questo è lo stesso Boost Oxygen che ha ricevuto un'offerta di 1 milione di dollari da "Mr. Wonderful" Kevin O'Leary su "Shark Tank", è utilizzato da atleti professionisti e dai loro preparatori atletici certificati ed è stato visto in programmi televisivi di alto profilo come "The Voice", "American Idol" e il "TODAY" show.  
Attualmente disponibile in tutti i punti vendita Lowe's delle regioni Mid-Atlantic e Rocky Mountain, chiedete un Boost al vostro negozio di fiducia e controllate il nostro Store Locator per trovare il punto vendita più vicino a voi.