Jul 15, 2021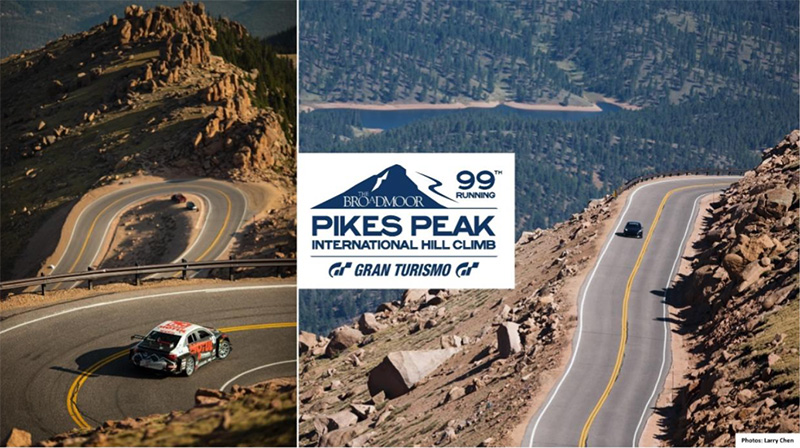 The Pikes Peak International Hill Climb is like no other race on the planet – it's why race teams come in from around the world and this year was the 99th running of the 'Race to the Clouds'. Boost Oxygen has been a proud sponsor of this event for almost ten (10) years now. We are very proud that race teams and drivers choose to have Boost Oxygen on-hand to support their performance and results while racing up the mountain.
Additionally, event staff, media and fans also have Boost Oxygen in-hand to help them enjoy the day while being at-altitude. We are excited to share some first-hand experiences of the day here with you and look forward to seeing everyone again next year for the 100th!
From Daniel, the Director of Operations of the PPIHC:
"As we rolled out the 99th running of the Pikes Peak International Hill Climb one of the main things we focused on was welcoming race fans back to the mountain. With sponsors like Boost offering the pocket size bottles of Boost Oxygen as part of our spectator goodie bags, it gave fans a chance to try the product at elevation.
The 2021 race was different than past years, for the most part, due to the weather. This was only the second time the course was shortened before the event began due to extreme conditions at the summit and over the last three miles of the course. The only other completely shortened course competition on record was in 1995.
With our milestone 100th Running taking place in 2022 we are excited to bring back our popular downtown street festival, Fan Fest which draws nearly 30,000 fans. It will be a great year to really showcase our history and legacy, especially with the upcoming Pikes Peak Hill Climb Hall of Fame induction.
Daniel Rodriguez
Director of Operations
Pikes Peak International Hill Climb

Each year, Boost Oxygen supports a 'PPIHC Rookies Program' that is designed to introduce first-timers to the unique characteristics of this race course; which includes a segment about how to deal with the negative effects of being at-altitude. Becca Livingston coordinates the program and shares her latest experience here:
"Sunday, June 27th, 2021. It was just past 3:00am when I rolled into the race pits. There were already thousands of people on the mountain in anticipation of the day's events. As soon as I got out of the car I was swept away by a race official and enlisted to lend my hands to some of the multitude of tasks that needed to be completed before the race could begin at 7:30am. Putting on a world class event like the Pikes Peak International Hill Climb is a massive undertaking, and to think that it is accomplished by a full-time staff of only 5 people is crazy. Luckily, they have an army of dedicated volunteers to lend their hands to the job. I have been a part of teams racing at Pikes Peak since 2005, and since 2015 I have also volunteered in various roles to help the organization during race week.
This year my week began on Monday where I helped teams complete their registration – getting their driver and team credentials and technical inspection forms, along with other necessary paperwork so they can attend the first practice on Tuesday morning. One of my favorite parts of this task was handing each
new driver to the mountain ( a "Rookie") a bottle of Boost Oxygen along with a personal message about how valuable this tool can be to people on the mountain. I've seen the effects of elevation on many people and felt it myself. For me the reduced levels of oxygen with any increase in elevation really begin to have an impact at over 9,000 ft – which is where the start line of the Pikes Peak race is located. I tell the teams that for every stage with go up the mountain the amount of oxygen they breathe gets reduced. Boost Oxygen can make the difference in both health and in performance.
But back to race day. Although the week had been almost perfect, there had been afternoon thunderstorms almost every day. And true to nature, Saturday afternoon was no different. As the day warmed, the summit of the mountain gathered up stormy clouds. Saturday night brought inches of ice to the summit – coating all of the temporary communication equipment and even worse, the race course. On Sunday morning, it was evident that as always, the mountain had decided the fate of the racers. With reluctance, but with safety a top priority, the race officials made the tough decision to shorten the course to 16 mile, which is still almost 13,000ft above sea level.
Although no new records were set due to the shortened course, the race was with thrilling as always. Super-fast cars accelerating away from the start line, fighting the clock at every corner. Man and machine battled the clock and came away victorious. But now, 3 weeks later I feel confident that every team who'd been there is thinking about that mountain, and what she will do on race day next year!"
Becca Livingston
Spider Grips
PPIHC Rookie Program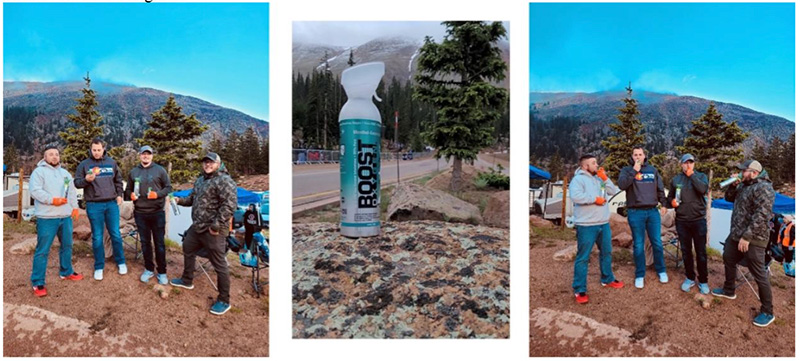 We are very proud to have had guests from two (2) of our valued retailer family in attendance! It was a first time experience for everyone…and not the last.
Colorado's own Christy Sports is legendary for providing expert ski and snowboard advice for buying world class gear – their customer service is unbeatable. They have been a long-time member of our retailer family and offer Boost in all store locations throughout Colorado, Utah and Washington State.

"We had a great time at the Pikes Peak International Hill Climb…it was a bit chilly at 3:30am but we got our spot at the finish line!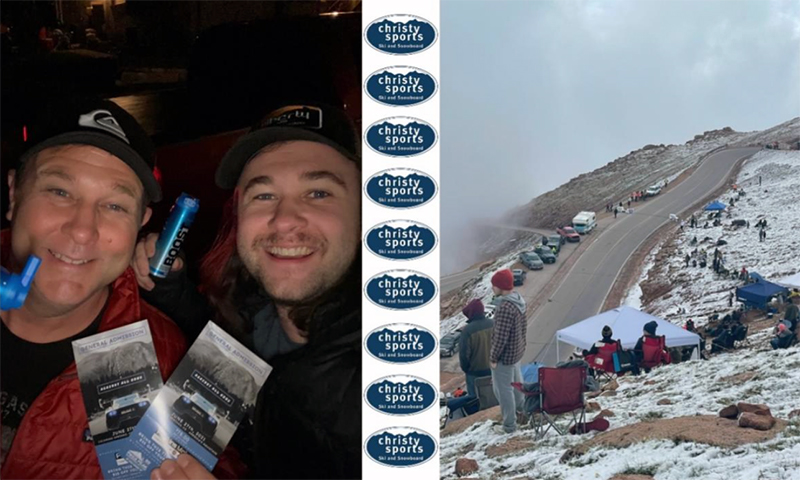 SCHEELS recently opened their newest nationwide location in Colorado Springs – it's their second one in Colorado, joining the first one that is located up near Ft. Collins. A trip to SCHEELS is like no other sporting goods store experience.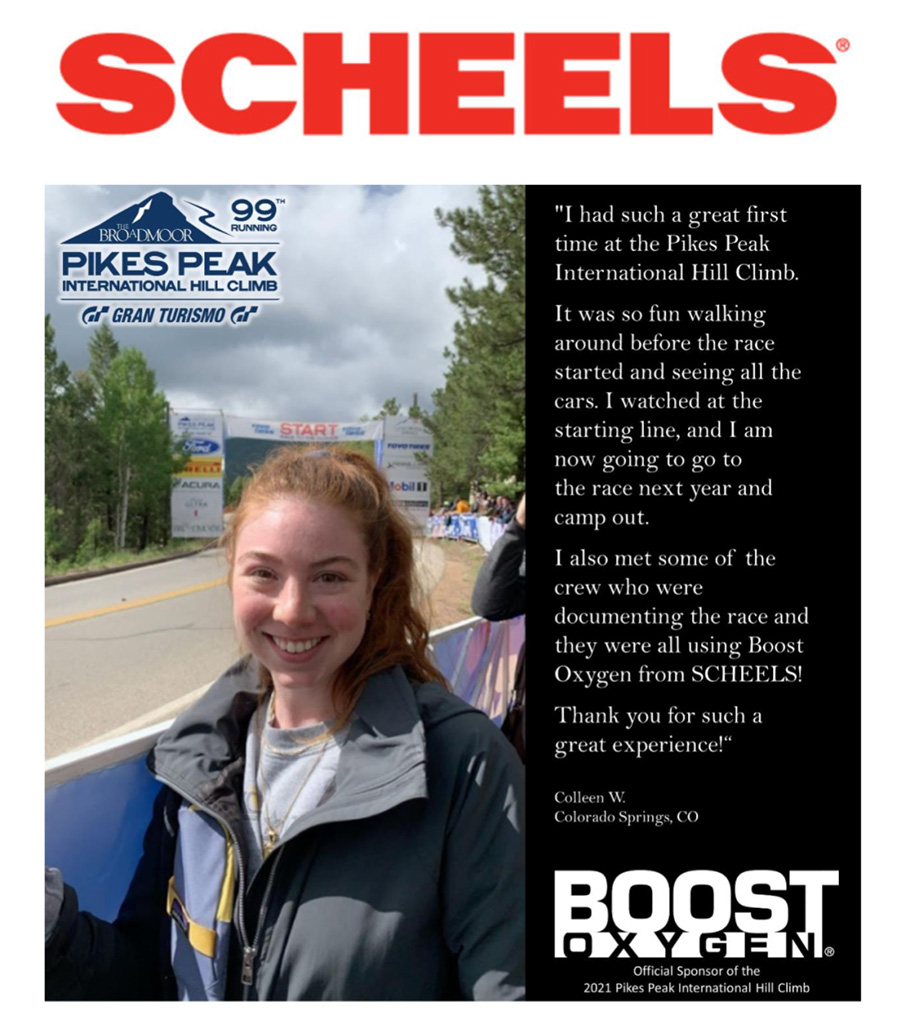 We are happy that our friends from 'Tailgating Challenge' were also able to have their first-time experience. What is Tailgating Challenge? Simply put: Master of the tailgate since 2012. Founder of National Tailgating and Homegating Day.
"Tailgating with family and friends will continue to grow because people love to share food and have some fun in a safe and friendly environment. You never see too many unhappy people at a tailgating event."
– Luke Lorick, Founder, CEO, and Tailgating Aficionado

"We arrived at the 99th Pikes Peak International Hill Climb, bright and early at 9:30am. Let me be clear I'm being sarcastic this is a race you need to get up early for. The gates actually open at 2:30 in the morning! We were lucky enough to get a pretty good parking spot and caught the shuttle bus to the race spectators area.
Once we got there it was clear this race was different from any others that we had attended. We were over 9,000 feet elevation at the start of the race and the racers go over 14,000 feet for their chance at a unique victory.
There were a few booths with different vendors, but the main attraction was that all of the crews with their cars are in one area that you can walk around and check out. In this area too we found a family of bears had decided to spend the night in a tree. A mother and her two babies were literally in the center of this race event. I was concerned that the babies would come down and the mother would have to protect them. Luckily no injuries to bears or humans occurred.
Now on to the cars. The cars will literally come up right behind you get to the starting line. You better be careful and stay aware as we almost saw someone get run over! This is not your average race. You can walk down the race track to find your spot for the chance to see these insanely fast vehicles fly by on hairpin turns. Again, very different type of race.
We headed back to the Pirelli tent to catch up on some food, drink and connect with the Boost Oxygen team a little before noon. We learned then that the race was almost over. Yes this race got over around 12:30pm. See my original comment about getting out of bed early to make it to this race. Of course we had our Boost Oxygen that we took some big inhales of while navigating around the spectators area too.
If you're up to see a whole different kind of racing event then I'd encourage you to get out there for the milestone 100th anniversary event next year in 2022."
Luke Lorick
President
Tailgating Challenge www.tailgating-challenge.com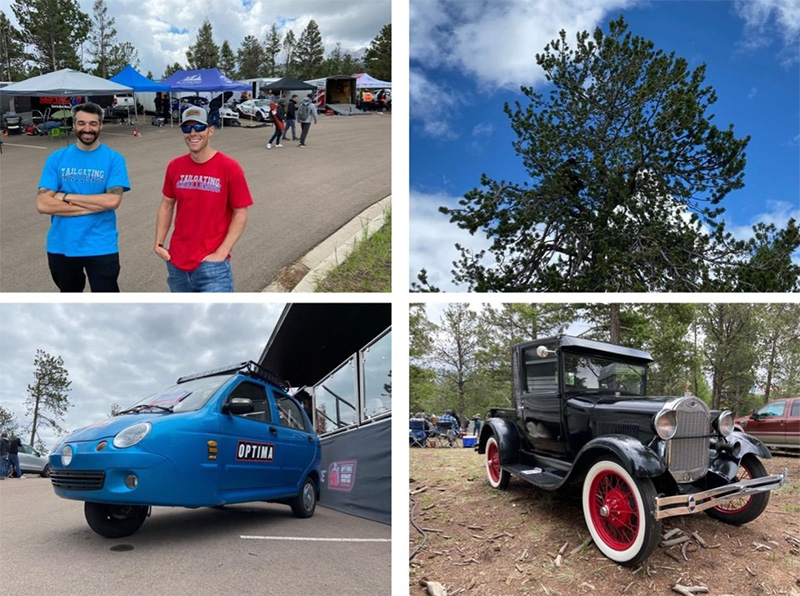 Our team from the Rocky Mountain Region also had their first-time experiences at the race! Elle Westphal and Amanda Cordero enjoyed the day:

As they walked around, the race teams' bottles of Boost could be seen in their pit areas: