Aug 2, 2022
Boost Oxygen Partners With The United States Air Force Academy Athletics As An Official Sponsor
Boost Oxygen, the global leader in portable supplemental oxygen canisters, is proud to announce a partnership with the United States Air Force Academy Athletics as a proud sponsor for their 2022/23 sports season, including Air Force Football, Basketball and Hockey.
Boost Oxygen canisters will be provided to Air Force cadet-athletes in the locker room and on the sidelines during games, as well as available for purchase at all concession areas at Falcon Stadium, Clune Arena, and Cadet Ice Arena. Boost Oxygen logos and branding will also be featured throughout the stadium and on the scoreboard at all Air Force football home games.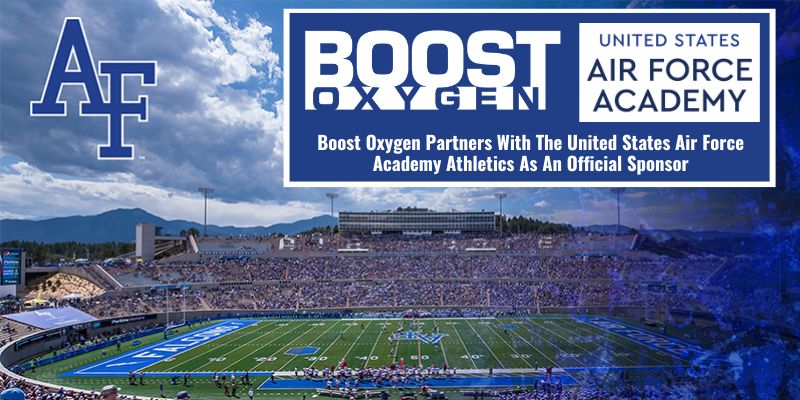 "We are honored and privileged to team up with the Air Force Academy Athletics and support their cadet-athletes and military community," said Rob Neuner, Boost Oxygen Founder and CEO. "Pilots have enjoyed using our oxygen canisters for over a decade, as have professional football players, hockey players and basketball players. We've also enjoyed great partnerships with many retailers throughout Colorado, servicing both tourists and local community with access to non-prescription oxygen for all-natural respiratory support. This upcoming season, when fans at Falcon Stadium see the iconic 'Warning: Lack Of Oxygen' signs, Boost Oxygen will be there to help with altitude acclimation."
The Air Force Academy is located just north of Colorado Springs, Colorado. Boost Oxygen has always been popular throughout Colorado and the high-altitude Rocky Mountain region, where there can be less oxygen in the air. Every year, millions of people traveling from sea-level to the Rockies experience altitude sickness. Using supplemental oxygen can help during altitude acclimation.
Normal air has around 21% oxygen – the majority is 78% nitrogen. Boost Oxygen contains 95% pure supplemental oxygen, nearly 5X the oxygen concentration in normal air. Boost Oxygen comes in portable, lightweight and completely recyclable canisters.
Athletes have been using supplemental oxygen for decades for performance and recovery during workouts, training and competition. Game day means an increase in breathing and heart rate, and higher oxygen needs. Providing the body with more oxygen allows for more energy and faster recuperation.
Boost Oxygen is trusted by pro football teams, pro hockey teams, college athletic programs, athletic trainers, basketball players, tennis players, runners, fitness enthusiasts and more.
L'oxygène purifié est également approuvé par l'USADA (United States Anti-Doping Agency) et l'AMA (World Anti-Doping Agency) pour une utilisation pendant l'entraînement et la compétition.
Boost Oxygen is Made in the USA and proudly supports the military community. Boost is also an official sponsor of MedTechVets, a non-profit organization helping our veterans obtain employment and mentorship with medical device, pharma and life science companies. Boost COO Mike Grice is also a retired United States Marine Corps Lieutenant Colonel, having served our country for 27 years.
About Boost Oxygen:
As seen on Shark Tank – Boost Oxygen is the global leader in portable supplemental oxygen canisters. Based in Milford, Connecticut, Boost Oxygen is a Made in the USA product, available at retailers nationwide and exported worldwide to 50+ countries. For more information, images, and studies about the benefits of oxygen, visit BoostOxygen.com or their Learning Center at Learn.BoostOxygen.com. Follow Boost on social media: Facebook: @BoostOxygenUSA, Twitter: @BoostO2, Instagram @boostoxygen, LinkedIn: @boostoxygen and our YouTube Channel: Boost Oxygen
About Air Force Athletics:
With a history of excellence and a focus on the future, the United States Air Force Academy instills cadets with pride and integrity while preparing them to serve their country and succeed in 21st century careers. The Academy is home to 27 different men's and women's NCAA Division I teams. From football to swimming, the Air Force Falcons have a rich tradition of determination and success. Visit https://goairforcefalcons.com/ to learn more about our athletes and get in on the action.