3 février 2022
Boost Oxygen poursuit son expansion nationale avec Lowe's Home Improvement
As homeowners and professional contractors recognize the benefits of using Boost Oxygen, we are proud to announce an expansion of in-store availability at select Lowe's Home Improvement locations!
A floorstand of Boost Oxygen canisters can now be found at PRO checkout and regular checkout at ALL Lowe's Home Improvement stores in the following states: Maryland, Virginia, Delaware, West Virginia, Ohio, Indiana, Illinois, Wisconsin, Michigan, Pennsylvania, New Jersey, New York, Connecticut, Rhode Island, Massachusetts, Vermont, New Hampshire, Maine and the District of Columbia.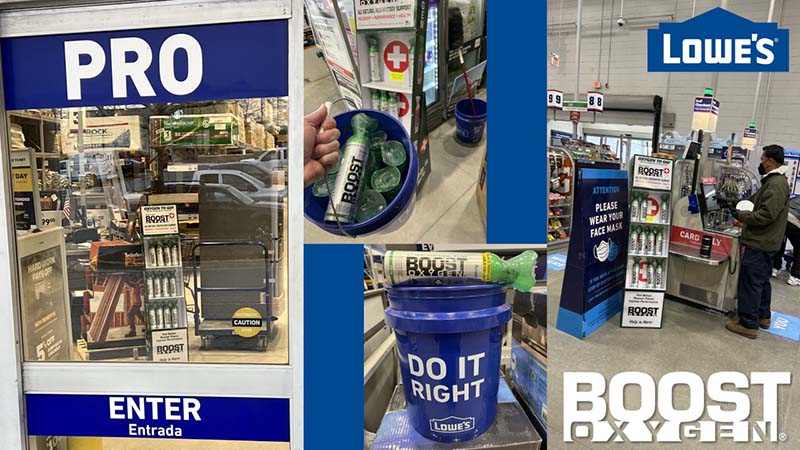 Why Boost Oxygen? There's 21% oxygen in the air we normally breathe. Boost Oxygen canisters contain 95% pure supplemental oxygen – that's nearly 5X the amount of oxygen in the air.  Boost Oxygen canisters are also lightweight, easy-to-use and 100% recyclable.
Many home improvement projects are physically demanding or might require extended wearing of a face mask. Purified supplemental oxygen is an all-natural respiratory support that can provide healthy energy, endurance, mental refreshment and clarity. Plus there's no sugar, caffeine or crashing that is associated with soda or energy drinks.
DO IT RIGHT. Give yourself a Boost at Lowe's!
Boost Oxygen est maintenant disponible chez Lowe's Home Improvement
Les propriétaires, les bricoleurs et les entrepreneurs professionnels font tous leurs achats chez Lowe's Home Improvement et peuvent désormais ajouter Boost Oxygen à la liste des articles à acheter lors de leur prochaine visite !  
En tant que produit de soutien respiratoire entièrement naturel, l'oxygène supplémentaire pur à 95 % de Boost Oxygen soutient votre énergie, votre concentration, votre clarté mentale et le rafraîchissement de votre respiration suite au port prolongé de masques faciaux. En général, les personnes qui se lançaient dans des projets d'amélioration de l'habitat étaient les seules à porter des masques faciaux pendant des périodes prolongées pour savoir ce que cela fait ; maintenant, et depuis mars 2020, nous le savons tous - donnez-vous un Boost !   
En tant que leader mondial de confiance pour la mise à disposition de bouteilles légères et portables d'oxygène respirable d'aviateur dans l'espace de vente au détail, la conception de notre masque breveté permet un débit d'oxygène activé par une seule main ; il est 100% sûr et naturel pour une utilisation par tous les âges et nous sommes très fiers d'être disponibles pour tous les clients de Lowe's Home Improvement. 
Vous trouverez votre Boost en magasin, commodément situé dans les présentoirs à la caisse des clients ET à la caisse des professionnels/entrepreneurs - il est facile à utiliser sur le chantier ! C'est le même Boost Oxygen qui a reçu une offre d'un million de dollars de " M. Wonderful " Kevin O'Leary dans " Shark Tank ", qui est utilisé par des athlètes professionnels et leurs entraîneurs sportifs agréés et qui a été repéré dans des émissions de télévision de haut niveau comme " The Voice ", " American Idol " et l'émission " TODAY ".  
Actuellement disponible dans tous les magasins Lowe's des régions Mid-Atlantic et Rocky Mountain, demandez un Boost dans votre magasin de quartier et consultez notre Store Locator pour trouver le détaillant le plus proche de chez vous.