Dec 8, 2021
Exclusive Footage From The Mt. Everest Skydiving Expedition featuring Boost Oxygen
Legacy Expeditions and Boost Oxygen present exclusive footage from the Mt. Everest Skydiving Expedition from October 2021! Boost Oxygen is an official sponsor of Retired Navy SEAL Michael Sarraille founder of Legacy Expeditions: Expeditions In Honor Of The Fallen. Sarraille was part of an expedition team that recently completed several skydiving jumps into the highest drop zones in the world on Mt. Everest! The expedition took place to increase awareness and help raise funds for surviving children of Special Operations personnel killed in the line of duty. To learn more and donate, visit legacyexpeditions.net
Boost Oxygen Helps Skydivers On Their Mount Everest Mission To Honor The Fallen
Boost Oxygen portable oxygen canisters will travel to the highest mountain in the world as part of the Mt. Everest Skydiving Expedition  
MILFORD, CT – Boost Oxygen, the worldwide leader in portable supplemental oxygen canisters, is proud to announce that our canisters will a part of a mission on the world's highest mountain as part of the Mt. Everest Skydiving Expedition, taking place October 14 – 29 in Nepal.
Boost Oxygen is an official sponsor of Retired Navy SEAL Michael Sarraille, founder of Legacy Expeditions: Expeditions In Honor Of The Fallen.
Starting October 14, a skydiving expedition team led by former Navy SEAL Fred Williams, President and CEO of Complete Parachute Solutions, will attempt multiple jumps into the highest drop zones in the world on Mt. Everest. Prior to the jumps, the skydivers will prepare with high-altitude training in Arizona and Colorado. Throughout their training and the Everest expedition, Sarraille and other members of the team will be using Boost Oxygen portable supplemental oxygen to supplement their training regimen.
Boost Oxygen canisters contain 95% pure Aviators Breathing Oxygen, and no prescription is needed to purchase and use it. Each canister is portable, lightweight, easy-to-use and 100% recyclable. Boost Oxygen is popular with older adults for an active lifestyle, athletes for performance and recovery as well as people visiting high-altitude locations to help with altitude acclimation.
The mission of Legacy Expeditions is to raise awareness and help fund the Special Operations Warrior Foundation, a nonprofit that empowers families of the fallen and severely wounded Special Operations Warriors. SOWF provide college scholarships and educational counseling to the surviving children of Special Operations personnel who gave their lives in the line of duty.
August 6th, 2021 marks the 10th anniversary of EXTORTION 17, the greatest single-incident loss of US lives in Operating Enduring Freedom – Afghanistan . 31 Americans lost their lives when their CH-47 (callsign 'EXTORTION 17') was shot down by the Taliban. Most of the Americans on board were Navy SEALs assigned to Naval Special Warfare Development Group. The American servicemen (sailors, soldiers, and airmen) were responding as an immediate reaction force to reinforce the 75th Ranger Regiment, which was decisively engaged with the enemy in Tangi Valley, Wardak Province.
Over 25 children were left without their fathers after EXTORTION 17 was lost. Organizations like the Special Operations Warrior Foundation exist to take care of those children funding their education and academic counseling to secure future careers. Mike Sarraille served alongside the men of EXTORTION 17.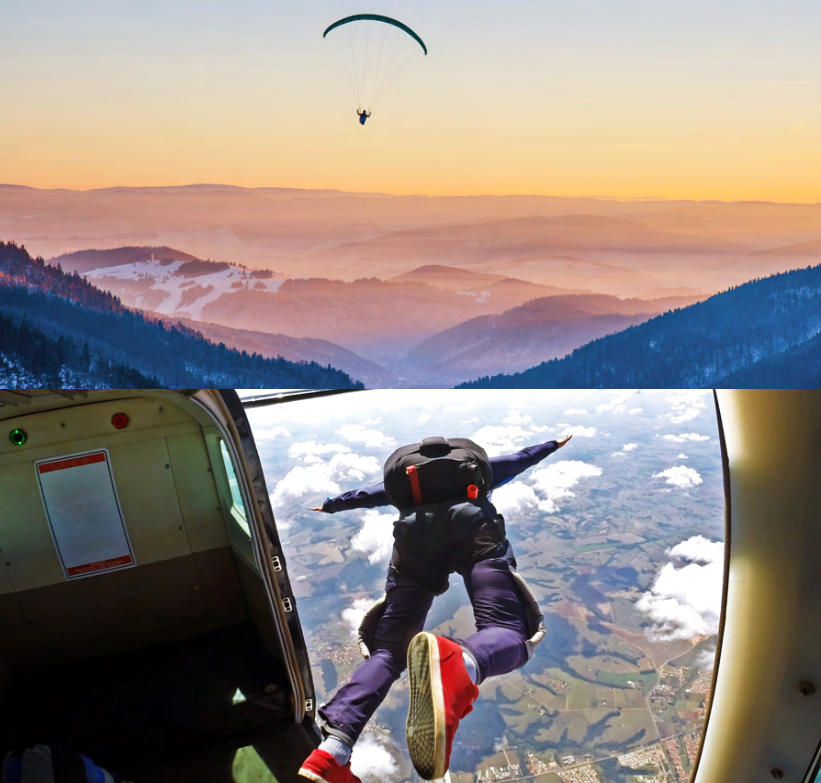 "We are extremely honored that Boost Oxygen will be a part of the Mt. Everest Skydiving Expedition, and proud to help raise awareness for the Special Operations Warrior Foundation," said Rob Neuner, Boost Oxygen Founder and CEO. "It's very exciting for everyone in our company that Boost will travel to the highest mountain in the world."
In additional to national media coverage, the Mt. Everest Skydiving Expedition is also being filmed for a full-length documentary that will chronicle the entire mission.
For more information about the Mt. Everest Skydiving Expedition or to make a donation to the Special Operations Warrior Foundation, go to legacyexpeditions.net or contact mike@3oneventures.com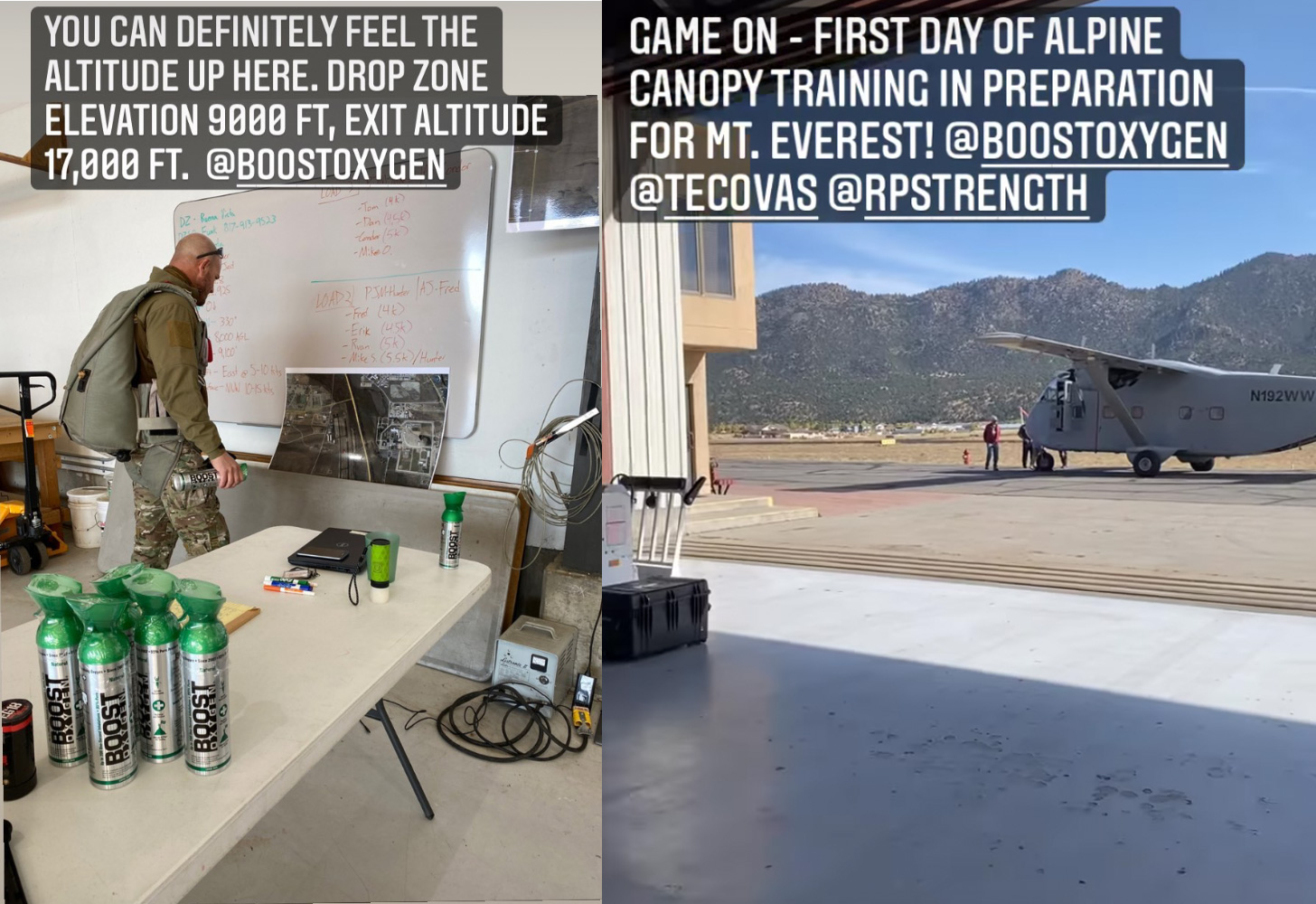 About Boost Oxygen:
Boost Oxygen is portable 95% pure supplemental oxygen for all-natural respiratory support. No prescription is needed. It is used by athletes for recovery, older adults for an active lifestyle, people at high altitudes for altitude acclimation and those experiencing poor air quality. Did you know the air we breathe contains only 21% oxygen – the majority is useless 78% nitrogen. Boost contains nearly 5x the oxygen you normally breathe and provides easy and immediate access to supplemental oxygen.
As seen on Shark Tank! Based in Milford, Connecticut, Boost Oxygen is a Made in the USA product, available at retailers nationwide and exported worldwide. For more information, images, and studies about the benefits of oxygen, visit BoostOxygen.com or their Learning Center at Learn.BoostOxygen.com. Follow Boost on social media: Facebook: @BoostOxygenUSA, Twitter: @BoostO2, Instagram @boostoxygen, Pinterest: @BoostO2, LinkedIn: @boostoxygen and our YouTube Channel: Boost Oxygen.