30 de marzo de 2021
March is Athletic Training Month and we are very proud to spotlight talented and passionate Certified Athletic Trainers who dedicate themselves to the performance of their athletes. They also understand the benefits of integrating Boost Oxygen into their protocols.
We thank The College of the Holy Cross Athletic Trainer Dan Hickey and appreciate him taking the time to share his personal feedback about being an Athletic Trainer.
When did you decide to become an Athletic Trainer?
When I was in High School, I decided that I wanted to combine the two things I was most passionate about; the medical field and sports. I remember being at a Lowell Lock Monster game and seeing an Athletic Trainer attend to an injured athlete on the ice and I immediately saw myself doing that someday. I knew helping people and working with athletes in the sport I loved to play and watch growing up was my calling.
What is the most rewarding part of your job?
The most rewarding part of my job is having the opportunity to work with some of the most incredible athletes and coaches. It goes without saying that helping athletes recover from an injury is also rewarding, but it's their hard work and dedication that get them there; I'm just happy to go along for the ride.
What is the most challenging part of your job?
Without question, the most challenging part of the job is finding a good work-life balance. Family is very important to me, and spending time with them is priceless. As I mentioned before, the coaches and athletes that I have been fortunate enough to work with over the years have become a second family to me, which makes spending time away from my wife and kids easier.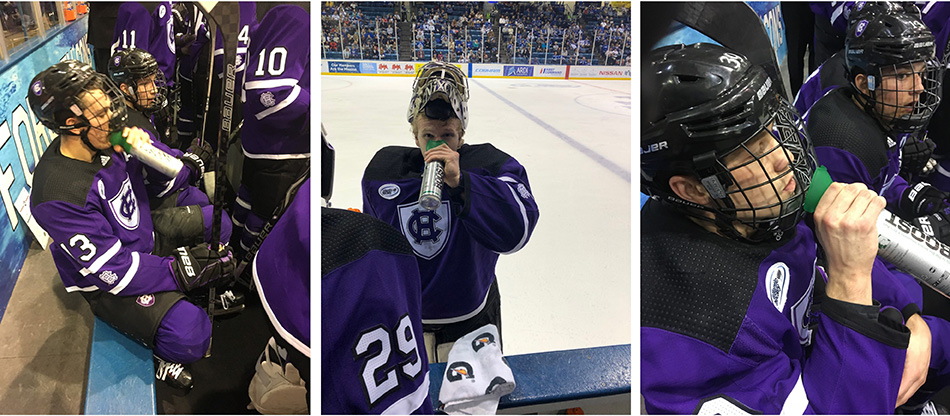 Describe the most amazing experience that affirmed your decision that "I am doing what I love to do".
One of the greatest experiences is the thrill and excitement of game day. The feeling of pure adrenaline and excitement just before kick-off or before the first puck drop. I remember being at a packed house at an ACC game in the South- the crowd was so loud I couldn't hear what my coworkers were saying standing right next to me. I remember feeling overwhelmed with excitement and telling myself to soak it all in because I would probably never experience that again. Ten years later I still get that same feeling when the teams take the ice and the lights come up, and to me- that's when you know that you love what you do.
I came across Boost when Brian was there at the Professional Hockey Athletic Trainers Symposia (PHATS) a few years back and thought it would be great for speedy recovery between shifts in a game. Oftentimes our top players will be called on for special teams immediately after battling through a long shift. With Boost, our athletes are able to recover quicker and optimize performance from shift to shift. With little time for acclimatization, we also utilize Boost when we compete at higher altitudes. My team specifically prefers the Menthol Eucalyptus flavor because it helps to open up the airway, much like a lozenge or certain vapor rubs.
Dan's Bio:
Dan Hickey is currently in his seventh season at Holy Cross as an athletic trainer in 2020-21. He works as the head athletic trainer for the Crusader men's ice hockey and men's rowing programs. Prior to his time at Holy Cross, Hickey's professional experience included serving as an assistant athletic trainer for the football team at Boston College (2012-2014) in addition to being the head athletic trainer for the softball team. Hickey earned his bachelor's degree in clinical exercise and sports science from Fitchburg State College in 2010, with a concentration in clinical exercise physiology. He went on to receive a master's degree in athletic training from Plymouth (N.H.) State University in 2012. Hickey interned with several American Hockey League teams, including the Worcester Sharks (2010), the Lowell Devils (2006-2009) and the Lowell Lock Monsters (2005-2006). Hickey is a member of the National Athletic Trainers Association, Eastern Athletic Trainers Association, Professional Hockey Athletic Trainers Society, Athletic Trainers of Massachusetts, National Honor Society for Athletic Training (Iota Tau Alpha) and the American College of Sports Medicine. Hickey currently resides in Leominster, MA with his wife Kaitlyn and daughter Teagan.