23. September 2021
Die Simpsons zeigen tragbaren Sauerstoff, während Boost Oxygen an Popularität gewinnt
Man sagt, dass man Mainstream-Popularität erlangt hat, wenn man in der langjährigen Erfolgsserie Die Simpsons zu sehen ist. Ein wahrer Beweis für die steigende Popularität von Boost Oxygen ist, dass die Simpsons (Staffel 32 Episode 08 - "The Road To Cincinnati") tragbaren Sauerstoff in einer Szene der Sendung vorstellten.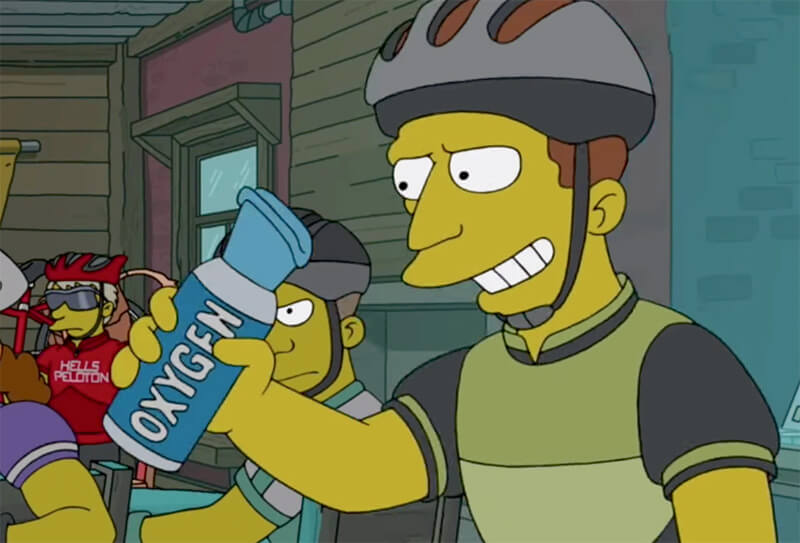 Sie können die Szene aus The Simpsons unten sehen (von ihrer offiziellen Facebook-Seite):
Jeder bei Boost Oxygen ist stolz darauf, dass tragbarer Sauerstoff in einer der bekanntesten Fernsehsendungen Amerikas gezeigt wird. Es spricht für die anhaltende Mainstream-Akzeptanz von Boost Oxygen als ganz natürliche Atmungshilfe.
Unser Shark Tank-Investor Mr. Wonderful Kevin O'Leary hat dies ebenfalls auf seiner offiziellen Facebook-Seite gepostet: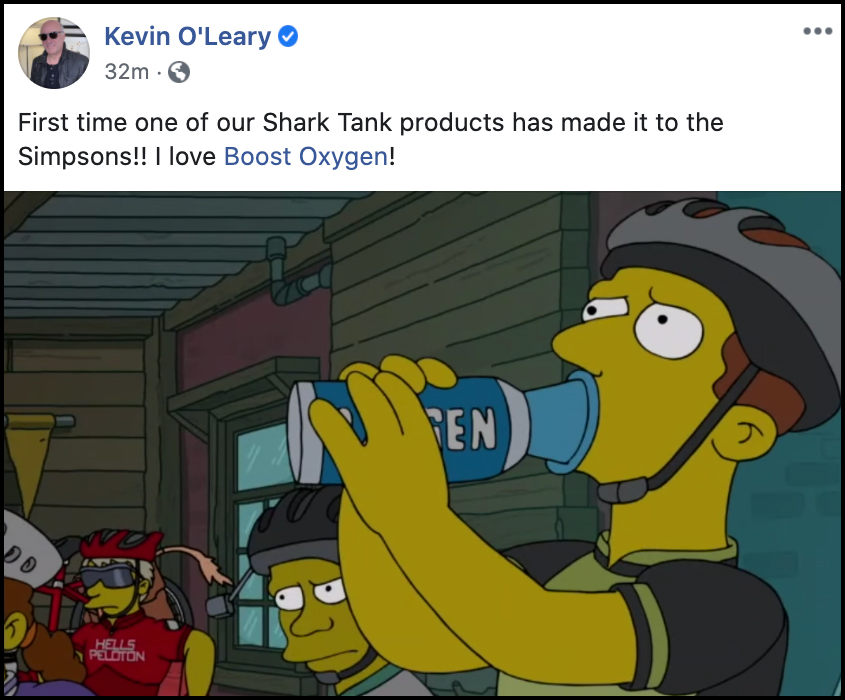 Viele glauben, dass die Simpsons im Laufe der Seriengeschichte auch zukünftige Ereignisse und Trends richtig vorhergesagt haben. Wir sind sicher, dass tragbarer zusätzlicher Sauerstoff ein Gesundheitstrend werden wird, wenn mehr Menschen von unserem Produkt erfahren. Weitere Informationen über die Vorhersagen der Simpsons finden Sie unter dieser Artikel aus dem Hollywood Reporter.
Seit der Markteinführung von Boost Oxygen im Jahr 2007 erfreuen sich unsere naturreinen 95 %igen Sauerstoffkanister jedes Jahr größerer Beliebtheit, da die Menschen immer mehr über die Vorteile von zusätzlichem Sauerstoff erfahren. Ähnlich wie der Aufstieg von Gatorade in den 1980er Jahren, als Sportler die Vorteile von Elektrolyten und Flüssigkeitszufuhr kennenlernten, folgt Boost Oxygen einem ähnlichen Weg zur Akzeptanz bei Sportlern, älteren Erwachsenen und Menschen in großen Höhen oder bei schlechter Luftqualität.
Boost Oxygen möchte auch allen unseren treuen Kunden, Lieferanten und Handelspartnern dafür danken, dass sie uns zum weltweit führenden Anbieter von tragbarem Sauerstoff gemacht haben! Wir schätzen Ihre Unterstützung sehr!