Jul 28, 2021
David Ball Swims With a Mission to Support Veterans
We are inspired to share the story of veteran David Ball as he challenges the limits of his energy and endurance while in the water to support veteran causes.
From David:
"On July 10 I participated in a charity 5K open water swim. The event is called 'Swim with a Mission' and the money raised supports veterans nonprofits in New Hampshire and Nationally. 'Swim with a Mission' is a not-for-profit that harnesses the creativity and network of its principal supporters to raise money to support worthy organizations that service, support and honor our veterans."
"As a veteran myself I wanted to take the honor one step further. I created a fallen soldier Memorial (boots, helmet, rifle) and placed it in the seat of a kayak and towed the kayak for my 5K swim."
"Knowing I was about to challenge my limits I prepared nutrition and supplements to consume during the swim. Every time I stopped to drink or eat I took a shot of Boost Oxygen before restarting.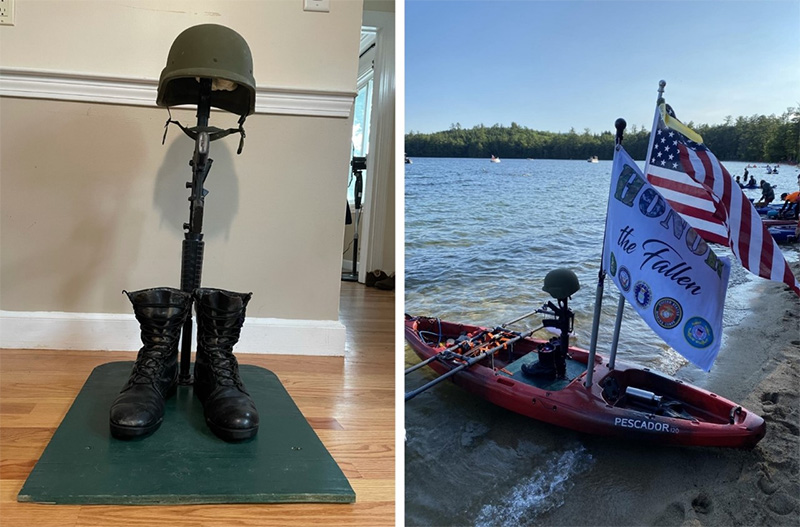 Multiple times I felt cramping starting to set in and Boost Oxygen stopped it dead in its tracks. I finish the swim in less than three hours and had enough energy to carry the kayak over the finish line."
"Thank you Boost Oxygen for helping me honor our fallen soldiers."
David A Ball Sr.
Danvers, Massachusetts
Stay connected to David on Instagram at: @doingveteranstuff and @faith_allegiance and learn more about 'Swim With a Mission' here: swimwithamission.org
Like many swimming athletes, David prepares for his events by supporting his pool-time training with a Boost! Boost Oxygen is available at sporting goods retailers nationwide, including Dick's Sporting Goods, Academy Sports + Outdoors, SCHEELS, Big 5 Sporting Goods, Bass Pro Shops, Cabela's, Sportsman's Warehouse, Sun & Ski Sports, Christy Sports and Dunham's Sporting Goods; as well as thousands of other retailers. Visit the Boost Oxygen 'Store Locator' to find the one closest to you: boostoxygen.com/boost-oxygen-retailers/