Sep 15, 2021
Interview with US Olympic Medalist English Gardner and why she uses Boost Oxygen
English Gardner is a two-time Olympic Medalist that enjoys using Boost Oxygen! English won Gold in the 4x100m relay at the 2016 Rio Olympics and Silver at the 2020/2021 Tokyo Olympics. She is also a two-time US 100m champion, a five-time NCAA Indoor and Outdoor champion for the Oregon Ducks, a professional sprinter for NIKE, she's been featured in NIKE ads and also a member of the Princeton University men's track and field coaching staff! She's also a great singer….and SO MUCH MORE!
WOW!!! Talk about an amazing life and career – and she's just getting started!
You can follow English Gardner on Instagram @ughlyducklin
We had the honor to speak with English about her career, her love of running, her world travels and why she uses Boost Oxygen during training and workouts:
Question: Where does your passion for running come from?
ENGLISH: When I was a little girl, I went to visit my grandmother's house on my father's side. She wasn't a huge sports person, so to connect with me she found an old scrapbook of my father's sports accomplishments. This was the day I learned about how my dad used to run track and field and hold school records. I remember stealing a picture from the scrap book to bring home to my dad to ask him about it. From that moment on I wanted to know more about the sport and how I could participate. IT WAS HISTORY AFTER THAT! I've been running ever since.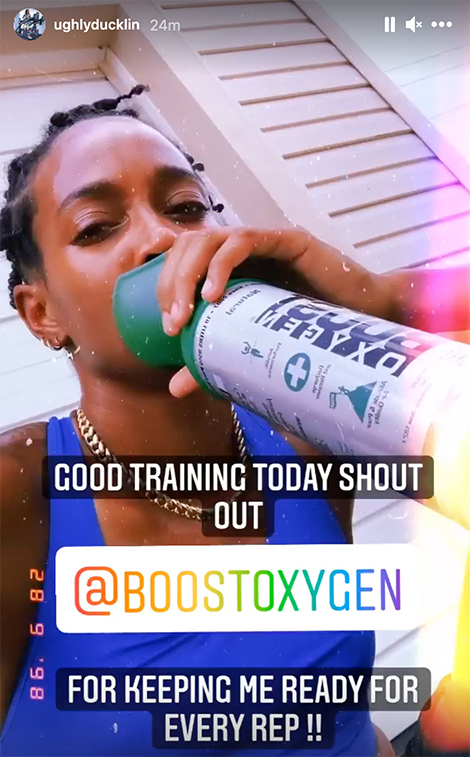 Question: Can you describe a typical day as an athlete – and what do you enjoy doing in your downtime to relax?
ENGLISH: Most of my day is all about training. What a lot of people aren't aware of is that track and field is a sport that is almost all year round. The only month I don't spend competing and have high intensity workouts would be the month of October. When it comes to a typical day, I usually spend the early day running for about 4 hours. After running it's my refuel and I'm headed to the gym for some good lifting which typically lasts 2-3 hours. After lifting is my utility work which consists of rehabbing any nagging injuries or doing exercises for prevention of any future injuries. However, in my free time I love to watch movies, hang out in the backyard, burn a good fire and I am a Video Game fanatic!! Call of Duty is my game of choice! Some of my Hobbies are: I love to joke around and make people smile and laugh. I am a praise singer on my church's worship team and love to sing on my off time.
Question: You've traveled all around the world and been to so many places – what has been your favorite location so far?
ENGLISH: Traveling the world is probably the best part about my job! My most favorite place that I have visited would most definitely be Monaco! One of the richest in the world, beautiful Mediterranean Sea, amazing people and a great overall fast competition!
QUESTION: Describe the feeling when you see yourself featured in NIKE ads and commercials.
ENGLISH: It has been a dream to be able to see myself over the years in so many different countries and places in Nike ads. Amazing creative company to work with! Globally marketed was one of my manifested goals, and I can't wait for what the future holds with Boost Oxygen!
QUESTION: Speaking of Boost Oxygen, how did you first discover Boost Oxygen and why do you use it?
ENGLISH: I first discovered Boost Oxygen on Instagram! Because track and field isn't well taken care of in the United States, it's up to us as athletes to go out and find ways to better ourselves and our performances the right way! I often find myself researching products that I believe will help and I ended up finding Boost Oxygen! Obviously running and sprinting requires the lungs to be used at a high level which already makes the product perfect for a training Olympian. However, most recently last April I caught Covid-19 and my bout with the illness was pretty bad. Moving forward in my recovery, I noticed that I had a hard time breathing and recovering in my workouts between reps. That's when Boost Oxygen really saved the day! I can now say that whenever I still feel the effects of my breathing issues, Boost Oxygen is always there to help! I use it in workouts, after workouts, once I land off a plane to help with recovery of jet lag, etc. Boost Oxygen is an essential part of my training and everyday use!
QUESTION: What's the next chapter in your career? What would you like to be doing in five years?
ENGLISH: In five years I expect myself to be a world 100m champion and an Olympic Champion once again. My goal in my sport is to be the fastest woman alive at some point! After track, I plan on coaching full time at a university and possibly pursuing my music career. In the grand scheme of things, my ultimate goal is to be the face of change for my sport. To be a push for change in the world and how certain things are. To be a voice of reason in time of need and a light in this world.
My famous quote I always say : Shock The World.
Be more than just a name. Be the push that makes a change !