Feb 3, 2022
Boost Oxygen pokračuje v národní expanzi s Lowe's Home Improvement
As homeowners and professional contractors recognize the benefits of using Boost Oxygen, we are proud to announce an expansion of in-store availability at select Lowe's Home Improvement locations!
A floorstand of Boost Oxygen canisters can now be found at PRO checkout and regular checkout at ALL Lowe's Home Improvement stores in the following states: Maryland, Virginia, Delaware, West Virginia, Ohio, Indiana, Illinois, Wisconsin, Michigan, Pennsylvania, New Jersey, New York, Connecticut, Rhode Island, Massachusetts, Vermont, New Hampshire, Maine and the District of Columbia.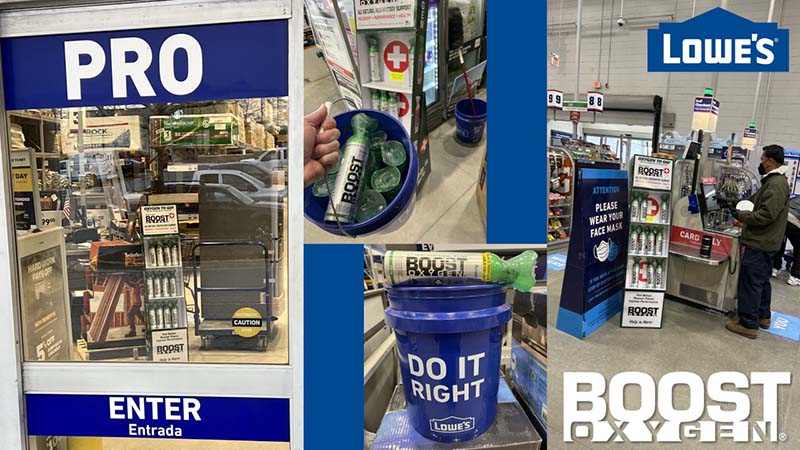 Why Boost Oxygen? There's 21% oxygen in the air we normally breathe. Boost Oxygen canisters contain 95% pure supplemental oxygen – that's nearly 5X the amount of oxygen in the air.  Boost Oxygen canisters are also lightweight, easy-to-use and 100% recyclable.
Many home improvement projects are physically demanding or might require extended wearing of a face mask. Purified supplemental oxygen is an all-natural respiratory support that can provide healthy energy, endurance, mental refreshment and clarity. Plus there's no sugar, caffeine or crashing that is associated with soda or energy drinks.
DO IT RIGHT. Give yourself a Boost at Lowe's!
Kyslík Boost je nyní k dispozici u společnosti Lowe's Home Improvement
Majitelé domů, kutilové i profesionální dodavatelé, ti všichni nakupují v obchodě Lowe's Home Improvement a nyní si mohou přidat Boost Oxygen na seznam položek, které si vyzvednou při příští návštěvě!  
Jako zcela přírodní produkt na podporu dýchání podporuje 95% čistý doplňkový kyslík Boost Oxygen vaši energii, soustředění, duševní jasnost a osvěžení dýchání při dlouhodobém nošení obličejových masek. Obvykle byli jediní, kdo se pouštěli do domácích úprav, ti, kdo nosili obličejové masky po delší dobu, aby věděli, jaké to je; nyní a od března 2020 to známe všichni - dopřejte si Boost!   
Naše patentovaná konstrukce masky, která je světovou jedničkou ve výrobě lehkých a přenosných lahví s dýchacím kyslíkem pro letce a je dostupná v maloobchodním prodeji, umožňuje spouštění průtoku kyslíku jednou rukou; je 100% bezpečná a přirozená pro použití všemi věkovými kategoriemi a jsme velmi hrdí na to, že je k dispozici všem zákazníkům společnosti Lowe's Home Improvement. 
Boost najdete v obchodě pohodlně umístěný v podlahových stojanech u pokladny pro zákazníky A u pokladny pro profesionály / dodavatele - snadno jej použijete na staveništi! Jedná se o stejný Boost Oxygen, který obdržel nabídku 1 milionu dolarů od "pana Báječného" Kevina O'Learyho v pořadu "Shark Tank", používají ho profesionální sportovci a jejich certifikovaní sportovní trenéři a byl spatřen v prestižních televizních pořadech, jako je "The Voice", "American Idol" a pořad "TODAY".  
V současné době je k dispozici ve všech prodejnách Lowe's ve středoatlantickém regionu a v regionu Skalistých hor.Požádejte o Boost ve své nejbližší prodejně a podívejte se do našeho vyhledávače prodejen, kde najdete nejbližší prodejnu.