Aug 24, 2020
Chinook My PAK™ Emergency Personal Aid Kits Featuring Boost Oxygen
Chinook Medical Gear, the leader in tactical medical gear and supplies for medical professionals and personal use, now features adult and child Emergency Personal Aid Kits (My PAK™) with Boost Oxygen portable supplemental oxygen.
Aiding the injured in an emergency can be difficult, but Chinook offers equipment to help deal with any medical situation. Their wide range of products help medical professionals in government, military, law enforcement, travel and business, plus home and personal use.
The Chinook adult and child Emergency Personal Aid Kits (My PAK™) featuring Boost Oxygen are available via their website, chinookmed.com
Chinook designed the adult and child My PAK™ to be lightweight and portable with enough room to hold essential medical supplies along with prescribed medications to treat pre-existing conditions, such as serious allergies, asthma, diabetes or heart conditions. Once you add doctor prescribed medications to the kit, My PAK truly becomes a Personal Aid Kit.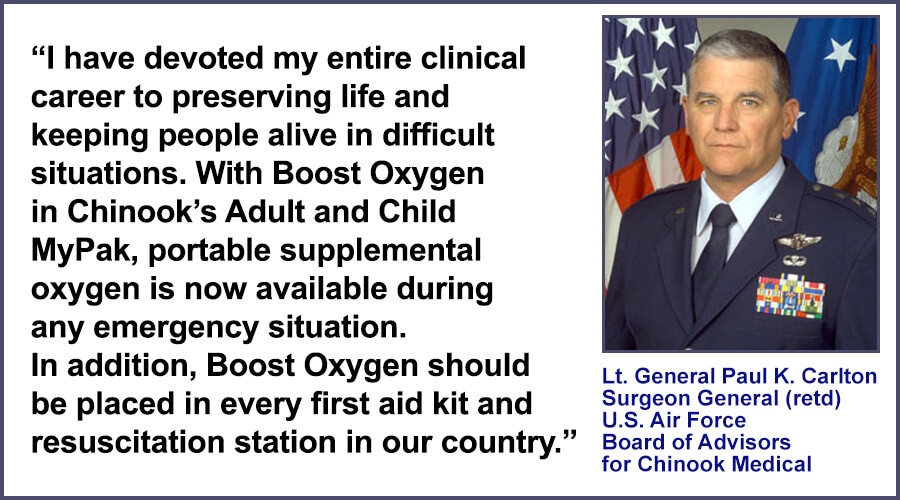 Affected persons and their family members can use My PAK to quickly address emergencies arising from known chronic medical conditions during the critical time between a 911 call and the arrival of first responders. Every second counts. If you're in the wilderness, high altitude or other remote locations, your only option may be to treat yourself. Chinook's My PAK™ comes with several supplies, but it can also be personally customized based on location or individual medical needs.
Wear the kit on your belt or keep it in your home, vehicle or purse so that lifesaving supplies are always close at hand. The My PAK features include internal elastic retainers on the top flap, a 4 way stretch pouch with side retainers on the bottom flap, and a cleverly designed back panel that allows you to wear the kit vertically or horizontally on your belt.
Preview the adult and child My PAK™ below – each comes with a Boost Oxygen Pocket Size 2 Liter canister of portable supplemental oxygen for emergency situations.
"I have devoted my entire clinical career to preserving life and keeping people alive in difficult situations" said Lt. General Paul K. Carlton, former Surgeon General of the United States Air Force, recently retired Director, Office of Innovations and Preparedness for Texas A&M and currently on the Board of Advisors for Chinook Medical. "With Boost Oxygen in Chinook's Adult and Child MyPak, portable supplemental oxygen is now available during any emergency situation. In addition, Boost Oxygen should be placed in every first aid kit and resuscitation station in our country."
"Our mission at Boost Oxygen has always been to provide reliable and convenient access to supplemental oxygen to anyone, anywhere," Boost Oxygen CEO Rob Neuner said. "Our motto is 'Help is Here' – as Oxygen simply helps, and Boost makes it accessible. Partnering with a reputable company such as Chinook Medical Gear furthers this goal and helps to ensure our oxygen will be available where and when people need it."
"Being able to include portable oxygen in emergency kits for trauma or at high-altitude is simply amazing," said Boost Oxygen Rocky Mountain Regional Manager Elle Westphal. "Chinook's reputation for providing high quality first-aid items lines up perfectly with Boost Oxygen's standards of excellence."
To learn more about Chinook Medical Gear and their wide range of products and supplies, visit their website at Chinookmed.com or follow them on social media on Twitter @chinookmed , on Facebook at facebook.com/chinookmedicalgear, on Instagram @chinookmed and LinkedIn 
Founded in 2007, Boost Oxygen has been the pioneer in developing 95% pure oxygen in portable and affordable canisters for health, recovery, energy and athletic performance. Boost Oxygen was featured during season 11 of the hit ABC show "Shark Tank", partnering with Mr. Wonderful Kevin O'Leary. Also, Boost Oxygen fills all of its canisters in the United States and is a proud supporter of MVPvets, a non-profit organization helping our veterans obtain employment and mentorship in the bio and medtech sector. To learn more about Boost Oxygen visit BoostOxygen.com or follow them on social media on Twitter @BoostO2 , on Facebook at facebook.com/BoostOxygenUSA , on Instagram @boostoxygen or on LinkedIn, and YouTube