Apr 12, 2021
A PROMISE KEPT – BOOST OXYGEN CONTINUES ANNUAL DONATION TO THE CONNECTICUT FOOD BANK
MILFORD, CT, UNITED STATES, April 12, 2021 – During the early stages of the pandemic last April, Boost Oxygen donated $5,000 to the Connecticut Food Bank. When schools closed during the pandemic and millions lost employment, food banks across the country were still there to supply daily meals to those that needed it at a crucial time.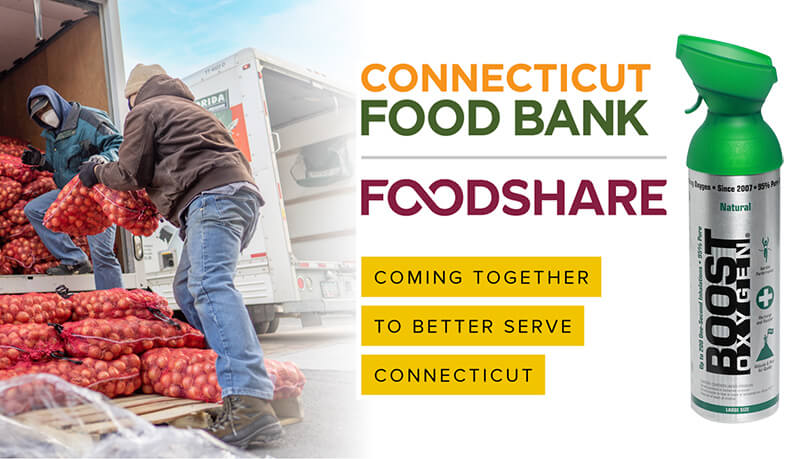 A year later, while there is optimism that the nation is recovering from the pandemic, we can't forget about food banks and the stability they provide to their communities. Boost Oxygen hasn't forgotten a promise we made in 2020 to continue our annual donation to the Connecticut Food Bank, which has recently combined with Foodshare. Not only have we given another $5,000 for 2021, but we're also asking our Boost Oxygen global community to help the cause.
Boost Oxygen has set up a special donation button on our Facebook page, with all proceeds going to the Connecticut Food Bank/Foodshare. We encourage everyone to help – any amount is appreciated. You can donate at @BoostOxygen or visit Facebook.com/BoostOxygenUSA
"We have seen an increased demand for food assistance throughout the state due to COVID-19. We are grateful to supporters like Boost Oxygen, who continue to aid in our efforts to provide food to people struggling with hunger," said Jason Jakubowski, President and CEO of Connecticut Food Bank/Foodshare.
In Connecticut, food insecurity was estimated to increase by an alarming 28% in 2020 because of the pandemic, for a total of 545,000 people, including 164,000 children, across Connecticut who are at risk of hunger. Connecticut Food Bank/Foodshare works through a network of 700 community-based hunger relief programs, including food pantries, community kitchens, emergency shelters, mobile distribution sites, and more.
"Boost Oxygen was founded in Bridgeport, Connecticut, and we spent our first 10 years there at our first headquarters," said Rob Neuner, Boost Oxygen Founder and CEO. "We learned firsthand how much the children rely on the schools as their primary source of daily nourishment. When the pandemic hit and the schools closed, we were so impressed how the food bank stepped in and filled a serious void. They definitely have our support, and we hope others will join us and continue to support their efforts as well."
To learn more about Connecticut Food Bank/Foodshare or donate, please visit CTFoodBank.org or foodshare.org.
About Connecticut Food Bank / Foodshare:
Connecticut Food Bank / Foodshare is the food bank of Connecticut and a member of the national Feeding America network. We provide nearly 40 million meals each year through a network of more than 700 community-based hunger relief programs, including food pantries, community kitchens, emergency shelters, mobile distribution sites, and more; while also working on long-term solutions. More than 8,000 volunteers help power the work of the food bank.Last year, they gave more than 62,000 hours of service.
About Boost Oxygen:
Boost Oxygen is portable 95% pure supplemental oxygen for all-natural respiratory support. No prescription is needed. It is used by athletes for recovery, older adults for an active lifestyle, people at high altitudes for altitude acclimation and those experiencing poor air quality. Did you know the air we breathe contains only 21% oxygen – the majority is useless 78% nitrogen. Boost contains nearly 5x the oxygen you normally breathe and provides easy and immediate access to supplemental oxygen.
As seen on Shark Tank! Based in Milford, Connecticut, Boost Oxygen is a Made in the USA product, available at retailers nationwide and exported worldwide. For more information, images, and studies about the benefits of oxygen, visit BoostOxygen.com or their Learning Center at Learn.BoostOxygen.com. Follow Boost on social media: Facebook: @BoostOxygenUSA, Twitter: @BoostO2, Instagram @boostoxygen, Pinterest: @BoostO2, LinkedIn: @boostoxygen and our YouTube Channel: Boost Oxygen.