Jan 27, 2022
Boost Oxygen Ambassador Spotlight: Breathing Coach Linda Jaros
Boost Oxygen is proud to have many ambassadors on social media that help spread the word about the benefits of supplemental oxygen for a healthy lifestyle. We want to spotlight Linda Jaros, LMT, CYT, Cert. Holistic Health Facilitator and Breath/Mobility Coach, OOFOS Brand Educator, Experience Specialist and Company Wellness Coach. Linda is also an outdoor and travel enthusiast and enjoys the benefits of using Boost Oxygen for her healthy and active lifestyle.
You can follow her on Instagram @lindajaros.lifebreath
Linda began her Wellness Career in the New England area in the early 80's with a focus on Nutrition and Fitness and working in Sports Muscular Therapy, specializing in injury and rehabilitation. She helped Olympic, professional, and amateur athletes, as well as the weekend warrior. Her work expanded to corporate executives and other professionals. In 1991, Linda relocated to Rhode Island where she founded The Life Breath Wellness Center. There she provided a variety of therapeutic services, classes and educational programs to empower clients for a healthier lifestyle. In December 2020, Linda relocated to Colorado where she enjoys outdoor adventures like skiing and hiking.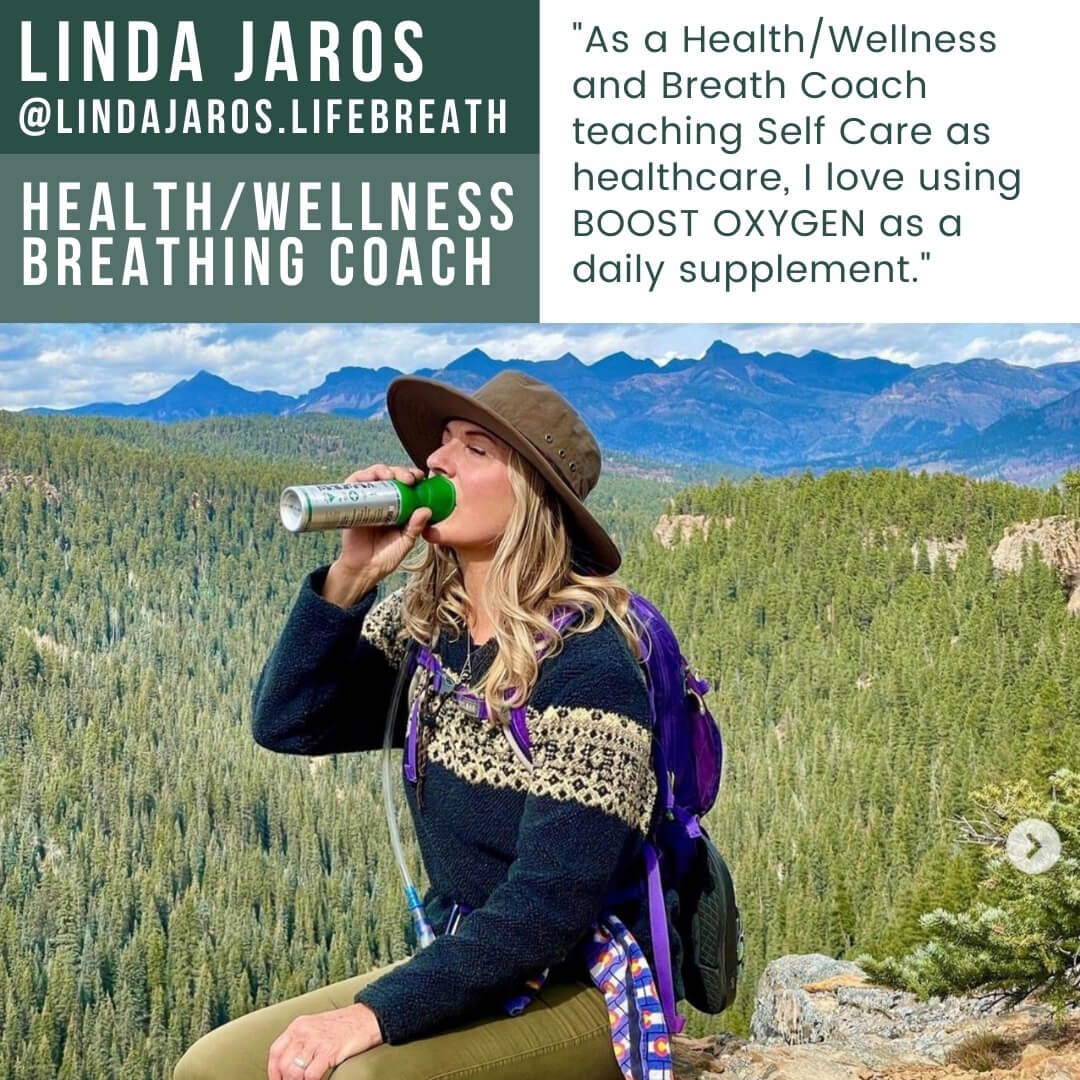 Question: YOU'VE BEEN PASSIONATE ABOUT BREATHING AND RECOVERY FOR MOST OF YOUR LIFE. HOW DID IT ALL START? WHAT SPARKED THAT PASSION?
Linda: My passion for breathing and recovery was first discovered when I studied yoga in the 80's and 90's and then a deeper experience and understanding in 2007 when I studied a "conscious circular breathing technique" which I experienced and then became a coach for individual and group breath sessions.  I worked with our veterans, individuals who experienced trauma, injured athletes, and athletes looking at breath practice as active recovery.  My personal experience was so powerful on a mind/body level that anything that enhances the efficiency of the respiratory mechanism, I explore.
I had a passion for fitness, dance, and yoga prior to training as a Sports Muscular Therapist.  I began working with professional, amateur, and Olympic athletes right away …..as my passion for sports rehabilitation and working with high caliber athletes created a very busy practice, I was approached by Human Kinetics publishers to co-author a chapter in the book Breakthrough Running on Rest and Recovery.  Some years later, I co-authored a book on a conscious breathing technique called Full Wave Breathing.  The Life Breath Wellness Center was born from this passion where I taught yoga, mobility classes, Breath Facilitator Trainings, regular breath classes, educational courses, private rehabilitation sessions as well as Breath Coaching Sessions.
Question: WHAT HAVE BEEN SOME OF YOUR PROUDEST MOMENTS IN YOUR PROFESSIONAL CAREER?
Linda:  Helping athletes achieve their competitive/career dreams has been fulfilling.  However, to be able to share how powerful breath is for the mind/body system has been my most fulfilling work.
Question: FROM YOUR PERSONAL AND PROFESSIONAL STANDPOINT, WHY IS PROPER BREATHING SO IMPORTANT TO OUR OVERALL HEALTH AND WELL-BEING?
Linda: The importance of proper breathing, I believe, has been underrated. I think that COVID has made people pause and pay more attention. What I have understood and shared with others is that physical and emotional stressors affect the quality of your breathing.  By engaging in conscious breathing practices that involve DEEP breathing, you can use more surface area of your lungs. Then to have a supplemental oxygen product like BOOST, can help all the tissues and organs of the body to function at their best.
Question: WHAT TIPS OR ADVICE WOULD YOU GIVE TO ATHLETES FOR IMPROVING THEIR CARDIO AND RECOVERY? WHAT ADVICE WOULD YOU GIVE OLDER ADULTS WHO MIGHT HAVE SHORTNESS OF BREATH?
Linda: My advice for athletes to improve their cardio training is to do a form of sprint conditioning. High intensity periods followed by recovery, to condition the heart for competition. Most athletes know this if they're competing at a high level.  I also advise learning/practicing deep conscious breathing as part of their training. I feel it's a most important part of training.  I highly recommend looking into Circular Breathing Techniques. Many different programs are available – just a Google away! For the older population, learning breathing techniques that help the strength of their respiratory muscles and open the breathing mechanism. Creating and maintaining flexibility in the ribs and spine directly helps the ability to maximize efficient breathing as we age. Beginning a breath practice earlier in life can help develop healthy habits as you age.  Just as I feel about BOOST, don't wait until you NEED it – supplement before to support a healthy lifestyle.
Question: YOU'VE BEEN A STRONG SUPPORTER OF BOOST OXYGEN AND THE BENEFITS OF SUPPLEMENTAL OXYGEN. WHEN DID YOU FIRST DISCOVER IT AND WHY DO YOU FEEL SO STRONGLY ABOUT USING BOOST?
Linda: I first became aware of BOOST on Shark Tank as I am a regular watcher. However, I began to use it a year ago after I had a long plane travel. After wearing the masks on the plane and stuck in airports, I felt like my body needed…..literally…..a BOOST.  My husband and I began supplementing two to three times a day at that point.  It was immediately clear that it gave our immune system a "boost". I began to recommend it to my clients and anyone who was wearing masks at their workplace, in school, etc. So many people's health have been negatively affected by hours of mask wearing, science has confirmed this, so BOOST has been such a powerful supplement to help out healthcare workers, etc, keep their immune systems strong.
Question: WHAT ARE YOU UP TO THESE DAYS? YOU ARE CERTAINLY AN OUTDOOR ENTHUSIAST – WHAT HAVE BEEN SOME OF YOUR FAVORITE PLACES THAT YOU HAVE VISITED?
Linda: When I/we decided to move to Colorado, we have owned a condo in Pagosa Springs, Colorado, since 2008.  We love this part of the country. Surrounded by National Forest and Pagosa is the home of the deepest Hot Springs in the world.  My husband and I are lovers of nature and the outdoors.  We are avid hikers, kayakers, snowshoers, etc.  anything outdoors.  This summer I'm looking forward to hiking Pagosa Peak (12,646') and the Maroon Bells (14,163') of us – and many more hiking excursions.  When we moved here, I took on a more expanded role with the OOFOS Recovery Footwear Company that I was consulting for since before they launched in 2012.  I serve as the Brand Educator and the Wellness Coach for the Company as an Independent Contractor.  Living at 7100 feet base altitude. I'm planning to do some Breath Coaching and partnering with a local Oxygen Bar and the Wellness Community this year.
So…..I'm 62 years old and I feel I'd like to help people realize that aging can be done differently than how many people think.  I believe the mind is so powerful in aging and I would say that going forward in my life, I want to share how a healthy lifestyle and healthy habits/practices can slow the (negative) aspects of aging. I want to be hiking and very active every year.