Aug 27, 2023
September Is National Preparedness Month
Since its inception in 2004, National Preparedness Month is observed each September in the United States. Sponsored by the Federal Emergency Management Agency (FEMA) National Preparedness Month encourages Americans to take steps to prepare for emergencies in their homes, businesses, schools, and communities.
In fact, FEMA has an entire website devoted to helping you stay prepared at READY.GOV – we encourage all of our followers to visit the website keep you and your family prepared!
National Preparedness Month serves to encourage individuals across the nation to take important preparedness steps including: getting an emergency supply kit, making a family emergency plan, being informed about the different emergencies that may affect you, as well as taking the necessary steps to get trained and become engaged in community preparedness and response efforts.
In 2016, the National Household Survey revealed that while more that 75% of Americans surveyed report having supplies set aside in their homes just for disasters, less than 50% have a household emergency plan.
Usually, you'll never know when an emergency will happen. Emergencies and disasters typically aren't planned and can't be circled on a calendar. It only makes sense to have a plan in place, whether it's for your home and family, business, during travels, or outdoor activities.
Resources To Help Plan For An Emergency
There are several online resources that provide plenty of information about the many ways you can plan for emergency and disaster scenarios. One great online resource is Ready.gov. Launched in February 2003, Ready.gov is a national public service campaign designed to educate and empower the American people to prepare for, respond to and mitigate emergencies, including natural and man-made disasters. The goal of the campaign is to promote preparedness through public involvement.
Ready.gov asks individuals to do four key things:
(1)  stay informed about the different types of emergencies that could occur and their appropriate responses
(2)  make a family emergency plan and
(3)  build an emergency supply kit, and
(4)  get involved in your community by taking action to prepare for emergencies.
Ready.gov also provides links to prepare for pandemics, hurricanes, wildfires, flooding, extreme heat and more. They also have tips on making plans for specific disasters or emergencies and what should be in emergency preparation kits.
Ready.gov also provides a great online calendar planning tool that marks preparedness activities and provides customizable resources to help promote preparedness throughout the year.
Another great online resource is FEMA.gov – a government agency with more than 20,000 employees that was established to help people before, during and after disasters.
الأكسجين التكميلي لمجموعات المساعدات الطارئة الخاصة بك
سواء كنت تستمتع بالسفر أو ممارسة التمارين الرياضية أو المشي لمسافات طويلة أو التزلج أو ركوب الدراجات أو حتى الاستمتاع بأشعة الشمس على الشاطئ ، فإن كل شخص لديه أنشطته الخارجية المفضلة. ولكن في كل مغامرة ، يكون لدى معظم الناس الضروريات لإحضارها في حقيبة أو مجموعة - سواء للراحة أو في حالة الطوارئ. وتماما مثل المياه المعبأة في زجاجات ، يعد Boost Oxygen إضافة ذكية وسهلة لأي حقيبة أو مجموعة من الضروريات - بغض النظر عن نشاطك المفضل!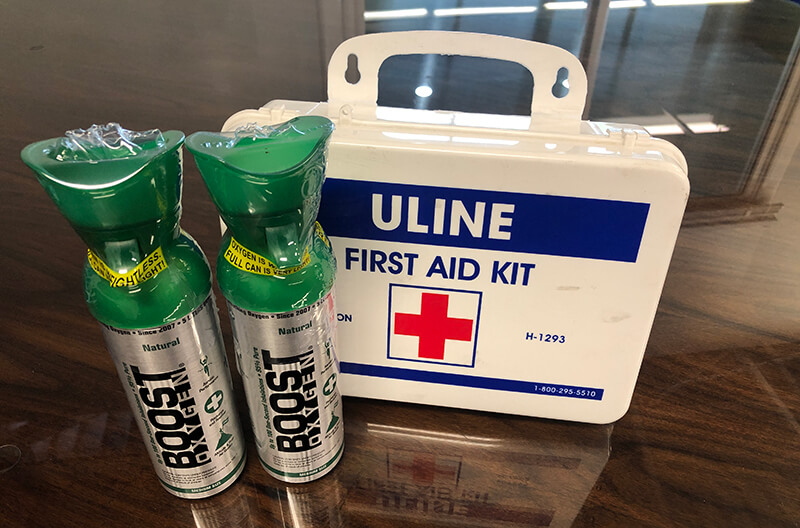 هل تعلم أنه وفقا لمركز السيطرة على الأمراض ، فإن ما يقرب من نصف الأسر الأمريكية ليس لديها الموارد أو الخطط المناسبة في حالة الطوارئ المنزلية؟
تحدث غالبية حالات الطوارئ الطبية في المنزل ، وبينما لا يمكنك بالتأكيد التخطيط لكل نوع من أنواع الطوارئ ، يمكنك الحصول على مجموعة طوارئ موثوقة لمساعدتك أنت أو أحد أفراد أسرتك خلال الدقائق المهمة قبل وصول المستجيبين الأوائل.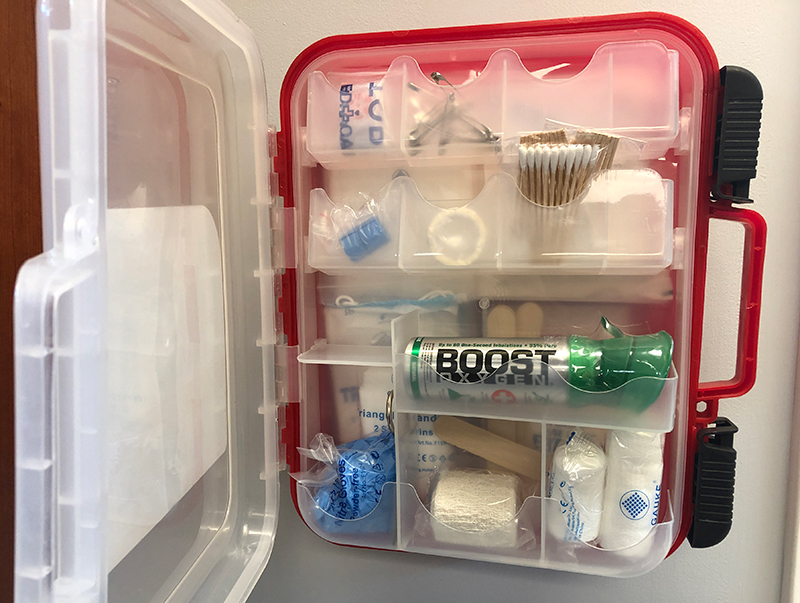 في أي مجموعة طوارئ منزلية ، من المهم أن يكون لديك ضمادات ، ومنصات شاش ، وقفازات ، ومنصات كحولية ، وأسبرين ، وجل حروق ، ومرهم مضاد حيوي ، وشريط ، وملاقط ، ومقص.
أثناء حالة الطوارئ الصحية ، من الشائع رؤية المستجيبين الأوائل و EMTs يعطون الأكسجين الطبي للمرضى. الأكسجين ضروري للحياة. هل تعلم أنه يمكن إعطاء الأكسجين لأي شخص لأنه لا يوجد أحد لديه حساسية من الأكسجين؟ يستخدم جسمك الأكسجين لتوليد الطاقة ، لصحة الدماغ ، للحفاظ على الأنسجة والأعضاء تعمل بشكل صحيح ، للاستقلاب وأكثر من ذلك. لذا فإن إضافة الأكسجين الإضافي إلى أي مجموعة طوارئ منزلية أمر منطقي فقط.