Feb 3, 2022
Boost Oxygen's success, appearance on Shark Tank, global growth and manufacturing expansion was featured in the recent Hartford Business Journal. The article also includes exclusive comments from Boost Founder and CEO Rob Neuner. You can read the entire article at the Hartford Business Journal website or below:
Shark Tank appearance, pandemic-fueled demand breathe new life into Boost Oxygen
By Jordan Grice
A businessperson once said an impulse purchase brand is a decent market, but a brand that needs to be used regularly is a great market.
Those were the words of Rohan Oza, one of several investors who three years ago backed out of a possible deal with Milford-based Boost Oxygen on the ABC hit reality program "Shark Tank."
While the show's investors typically pride themselves in their business foresight, none could have predicted the COVID-19 outbreak in 2020 and subsequent boom in business for Boost, which makes 95% pure portable oxygen cans for respiratory support, said company founder and CEO Robert Neuner.
"It helped a lot of people and a whole lot of eyes were on us," Neuner said, noting that his company earned $17 million in revenue in 2021 — up from $12 million in 2020.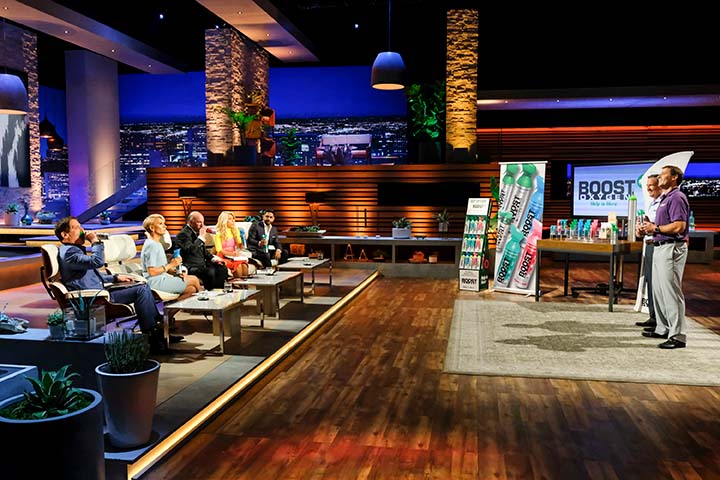 Boost has experienced 50% growth in business each year since the episode aired, he added.
The company's supplemental oxygen comes in a recyclable aluminum bottle that's been marketed to athletes, those in high altitudes, and people in locations with poor air quality.
Boost doesn't advertise its products for medical use. Still, Neuner noted that the accessibility and utility of their canned oxygen became a hot commodity among consumers looking for a natural respiratory support product during the pandemic.
Neuner said Boost's goal is $25 million in revenue this year as it makes its way into several pharmacies and big box stores nationwide, and opens a second manufacturing facility to expand production.
"What we are trying to do is become first to the market and also the most trusted [brand]," Neuner said. "We want to be what Xerox was for copiers, or Kleenex is for tissues."
How it started
While the company has enjoyed success in recent years, Boost Oxygen has been around since 2007, when Neuner launched in Bridgeport.
"I had just sold another business," said Neuner, who was a beer importer before starting Boost.
As he looked for a new venture, Neuner said a close friend, whose family was in the aerosol industry, suggested getting into canned oxygen.
Neuner said he self-financed the start of his business, which secured an early account with the now-defunct Sports Authority chain. The supplemental oxygen line became popular with athletes and skiers, he said.
That has been the case for Jeri Brungardt, co-leader of Women Hiking Kansas. She said Boost's products have become must-haves for her 100-plus member group based in Wichita, which tested the oxygen cans at first and then purchased them.
Prices range from $7.99 to $14.99 depending on the size of the canister.
"I think a lot of the women are hiking more because it has enabled them to do more," Brungardt said.
Swimming with sharks
Boost accounts for more than 90% of the market share for non-prescription canned oxygen, according to Neuner.
That was a significant selling point in 2019 when Neuner and Boost Chief Operating Officer Mike Grice secured a $1 million investment from serial entrepreneur Kevin O'Leary on "Shark Tank" — the first and only time the company has raised outside funding, Neuner said.
"Our mission at Boost Oxygen is to make compressed oxygen as available as bottled water," Grice said during the episode.
Not long after appearing on the program, Boost announced that its products would be available at 2,200 CVS Pharmacy locations nationwide. Boost has also tripled its workforce from 15 to 45 people in the past year.
The episode they were featured on has since gone into syndication, which Neuner said has continued to be a boon for Boost's brand recognition.
"It's the gift that keeps on giving," Neuner said.
The broader global consumer oxygen equipment market is projected to grow into an $11.8 billion industry by 2026, according to ResearchAndMarkets.com, which identified Boost Oxygen as a player in the sector.
Pandemic-fueled growth
While Boost's "Shark Tank" appearance helped increase the brand's recognition nationwide, Neuner admitted that the coronavirus outbreak in March 2020 contributed the most to the company's surge in business.
Supplemental oxygen received a lot of attention, especially in the beginning of the pandemic, he said, despite not being marketed for medical use.
"We got a lot of people looking at us, and thankfully we were prepared," Neuner said. "People were having a hard time finding oxygen without a prescription, and that's kind of where we fell into," he said. "We were growing even before COVID, but then when it hit, people would Google shortness of breath, and 'Boost Oxygen' would come up."
Boost also launched an online learning center to show people the benefits of supplemental oxygen during different respiratory emergencies.
Neuner said he expects Boost's growth to continue and the company has planned accordingly by taking control of its product manufacturing after years of outsourcing.
Boost launched its first manufacturing operation last year, opening a 10,000-square-foot facility in Milford. The company will open a second 38,000-square-foot space this year, which Neuner said will quadruple production output.
"We've been doing up to 10,000 cans a day, and this is going to give us the potential for 50,000 cans [a day]," Neuner said.
Boost has also sought to give back to the community as it expands.
The company recently announced a partnership with Kennedy Employment Services run by the Kennedy Center, a Bridgeport-based agency that employs adults with special needs.
Kennedy Center members will assemble display holders that will go into 200 Walmart stores as the company expands. Neuner said it's a cause he had a personal connection to.
"My late brother-in-law had special needs and worked in a hospital as a chef and valued his time as a member of the workforce, and to go see that is nice," he said. "[The Kennedy Center] definitely helps us out, and we definitely support them as well, and it makes me feel great to be able to support them too."