Apr 16, 2021
2021 is the year of #SpartanPaul8at80 for Paul Lachance
Paul Lachance is a husband, father, best friend, cancer survivor and a Spartan athlete who is turning 80 years old this summer! To celebrate, he keeps walking past the rocking chair to prepare and participate in Spartan Race events across the country; this year he's doing eight (8) Spartan Trifectas. He implements Boost Oxygen to support his performance and recovery…we are very proud to support him.
2021 is the year of #SpartanPaul8at80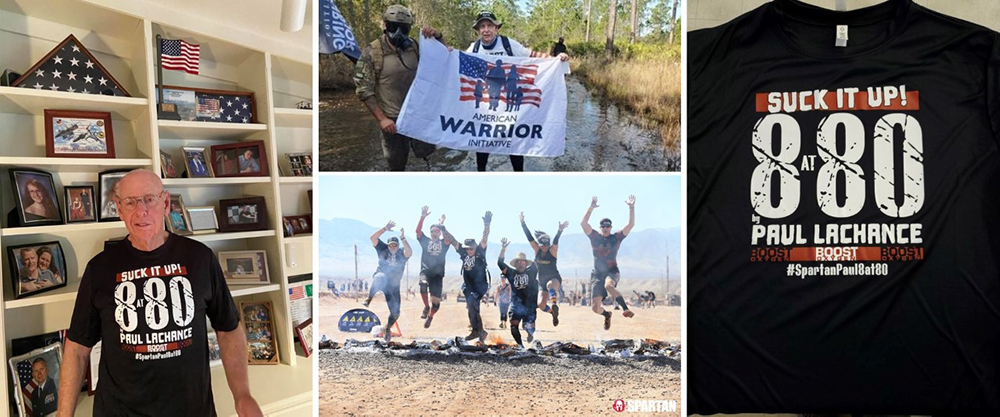 From Paul:
Many of you know that I am on a mission to complete 8 Spartan Trifectas this year. I am off to a good start by getting credit for 2 from last year before this virus threw the OCR world upside down an another Super and Sprint this past weekend. We are back on track and can see the fire jump finish line up ahead. A secondary goal that I set was to complete my 100th Spartan Race this year…and both goals should be completed about the same time.
If you've been watching the various Facebook posts you know that this past weekend, I started wearing a new 2021 #SpartanPaul8at80 t-shirt to raise awareness that if I can do it then so can you!
Due to popularity of the shirts at the Vegas events, and the strong interest expressed in my goal, we decided to offer the shirts for sale (very modest cost) so that you can show your support. We decided to donate ALL profits to the American Warrior Initiative (AWI) organization. AWI has spearheaded hundreds of give-back initiatives to the wounded heroes of America. These wounded heroes have been served through the gifting of service dogs, business grants home upgrades, mortgage-free housing, and more.
The 8th trifecta was to be completed in Dallas, Texas on Sunday, October 24 but Spartan has recently announced that a change in venue is required; stay tuned for more information on it. This is always a highlight of the Spartan schedule and would have been a very fitting venue to cap off the year – but you know how we have to be flexible and strong in these times of COVID-19.
I am asking that you join me, either as an active participating Spartan or simply help AWI. My vision for that final Spartan Sprint event is to have the starting pen with as many runners wearing the shirt as possible. Let's do this, if not for me, then for the American heroes served by American Warrior Initiative…they deserve much more than we can ever give them.
Get your name on the list ASAP so you can start being part of this phenomenal movement…simply follow and message me by DM on Facebook or Instagram with your address and size and we'll take it from there. On Facebook @PaulLachance and Instagram @paul.lachance.14
Also please show your support by posting up your pictures with me on your social media with these hashtags: #SpartanPaul8at80
#AmericanWarriorInitiative
#BoostOxygen
#LetsGeterDone
See you on the trail!
Paul
From American Warrior Initiative:
"It makes us very proud to be the recipient of Paul's efforts and achievement during his '8 at 80' campaign with Spartan!" says Louise. The mission of the American Warrior Initiative is to bring awareness of the challenges facing American military service members when they are returning home from war.
AWI seeks to inspire and educate Americans on the importance of giving back to the men and women of the United States military, with the goal of bridging the military-civilian divide. Over the past 9 years, AWI has spearheaded millions of dollars of initiatives for hundreds of these heroes, who have been served through the gifting of service dogs, business grants, home upgrades, mortgage-free housing, and much more. Learn more about AWI: American Warrior Initiative and stay connected on Instagram: @americanwarriorinitiative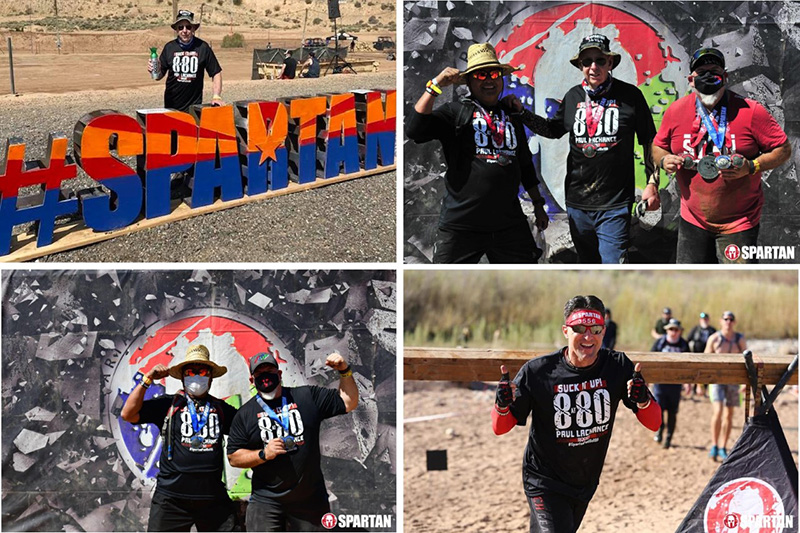 Learn more about Paul and his journey that started at 65 years old after having "a major heart event":
https://learn.boostoxygen.com/paul-lachance-strives-to-be-a-dirty-old-man-and-cancer-cant-stop-him
https://learn.boostoxygen.com/an-epically-challenging-2018-has-paul-lachance-strengthened-for-an-amazing-2019
https://learn.boostoxygen.com/is-spartan-obstacle-course-racing-a-metaphor-for-life
https://learn.boostoxygen.com/interview-with-boost-oxygen-ambassador-and-spartan-runner-paul-lachance